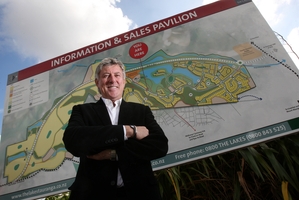 The overall winner of the Westpac Tauranga Business Awards 2013 last night was Vertical Horizonz NZ, with Paul Adams, founder of Carrus Corporation, named as winner of the Excellence in Business Leadership award. Comvita took out the Corporate Leadership Award.
Head judge Allan McFall said the quality of entrants this year was particularly high, but especially high in the ACC Workplace Safety Award and the Retail and Service Award, which went to Supported Individualised Lifestyle Choices (SILC), and Mitre 10 Mega, respectively.
"This meant some robust debate over the winners of each of those categories and then for the overall winner of the Westpac Tauranga Business Awards," said Mr McFall, who is managing director of McFall Fuel & Direct Fuels. "This is a great problem to have."
Tauranga Chamber of Commerce chief executive Max Mason, introducing the event, said there was no need to look outside the Bay of Plenty for opportunity, achievement or fortune. "The resources to achieve all good things are present in one's own community," he said.
"So let's acknowledge and respect the hardship and sacrifices those businesses tonight have gone through."
Around 450 people attended the black-tie event at the ASB Arena, including Mayor Stuart Crosby, Tauranga MP Simon Bridges, ACC CEO Scott Pickering, and Richard Craven, area manager business banking Tauranga and Coromandel for Westpac, which co-sponsored the event with the Bay of Plenty Times, The Radio Network and the Tauranga Chamber.
The overall winner, Vertical Horizonz, provides customised, organisation-specific education and training for businesses throughout the country. The company is a NZ Qualifications Authority-registered private training enterprise. Vertical Horizonz beat out Mega Mitre 10 and fashion company Repertoire.
The judges said Vertical Horizonz scored highly across all areas and demonstrated clear management structures enabling the organisation to operate across New Zealand, Australia and internationally. Vertical Horizonz participates at an industry level to ensure training evolves and meets industry-specific requirements along with strong customer partnerships ensuring programmes are delivered effectively and with little disruption to business.
"A strong focus on process and systems along with a structure that engages staff made Vertical Horizonz a clear standout winner for this 2013 Westpac Tauranga Business Awards," the judges said.
Paul Adams, winner of the Zepri International-sponsored Excellence in Business Leadership award, was acclaimed as a worthy winner. Mr Adams was a notably successful business person, but the award acknowledged his contribution to the community, said the judges. Mr Adams has been a longstanding, influential member of the community on many boards and trusts. In particular, he was described as a huge contributor to the Waipuna Hospice mission.
"He has been deeply involved in early building expansions and developments and the current project due to begin in 2014. In 2005/6 Paul was on site most days a huge undertaking while still maintaining his presence in his business," said the judges.
The Waikato Management School, which sponsored the Corporate Leadership Award and analysed nominees, said it congratulated Comvita on its outstanding growth, performance and continual commitment to nourish, protect, restore and revitalise their customers' health from the inside and the outside. "Comvita is a credit to itself and the Bay of Plenty region."