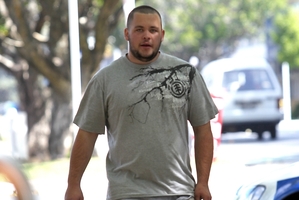 A Tauranga boy racer found guilty of drifting around a roundabout is set to be the first person in the Bay of Plenty to have his car crushed.
Braedyn Clothier, 20, yesterday received his third conviction for operating a vehicle causing sustained loss of traction, leading Judge Thomas Ingram to agree to the police request to order the destruction of the 1995 BMW despite claims it had already been sold.
Clothier was pulled over by police after reports of him driving erratically and doing a donut around a roundabout on Cambridge Rd on July 17.
A witness yesterday told the court he first saw Clothier's BMW when it "shot past him" as he was coming up the Kaimai Range on the way back to Tauranga about 7.15pm that night.
He phoned police after seeing a person hanging out the window and later spotted the car doing donuts.
Senior Constable Darren Nicholas told the court he found the rear wheels of Clothier's car "sticky to touch" when he pulled it over, which was consistent with the sustained loss of traction.
Judge Ingram said he was convinced that Clothier was the driver, that the vehicle underwent a sustained loss of traction and that it was the result of a deliberate decision by the driver.
Clothier testified the car was parked on his friend's front lawn when an unknown man turned up saying he wanted it for parts and gave him $400 cash. A month later the car was gone and Clothier said he assumed the man had returned to collect it.
Police prosecutor Dave Pawson told the judge this was despite the fact Clothier had been issued with a notice forbidding him to sell or dispose of the car. Judge Ingram found that Clothier knowingly sold the car after being given the prohibition notice since it was issued three weeks after Clothier was arrested and the car remained on the lawn for a month before it was picked up.
"Having heard from Mr Clothier, I am not satisfied that he no longer owns, or has an interest, in the car,"Judge Ingram said. "The story he's told simply beggars belief. I regard it as fanciful."
He also sentenced Clothier to a 125 hours' community work and disqualified him from driving for six months from when his current disqualification ends in January.
"If you're going to drive in this way you're going to get locked up and I'm happy to help you get there," Judge Ingram told him.
"If you come here again you're going to get locked up."
Outside court, Clothier said he did not think the destruction order was fair but said he had learnt his lesson.
"I've decided I'm going to buy a 4WD car instead of a drift car to keep me out of trouble."
Mr Nicholas, who described Clothier as a boy racer, told the Bay of Plenty Times it was a good win for the police. "All we want is compliance at the end of the day," he said.
"A normal person makes a mistake and learns from it and moves on. He hasn't learned. The crushing act is to try and teach the message."