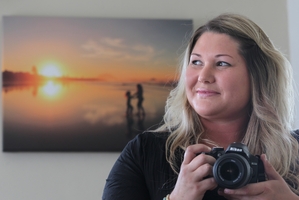 Photography might just be a hobby for Anouska Nelson but her skill behind the lens has won her a new camera.
Mrs Nelson, who lives in Mount Maunganui, was the overall winner of a North Island-wide competition run by APN which asked people to submit photos of their hometown.
Photos, along with a brief description of why people love their hometown were submitted by residents in the Bay of Plenty, Rotorua, Northland, Hawke's Bay, Wairarapa and Wanganui.
A team of judges picked two finalists from each region and they went up against each other as members of the public voted for their favourite.
The winner from each of the six regions won a Sony DSC-W690S 16.1MP digital camera valued at $199 and as the overall winner Mrs Nelson walked away with a Nikon D3200 24.2MP Digital SLR camera valued at $1079.
Mrs Nelson's winning image is of her two daughters, Gia and Ava, when they were playing on the beach one evening.
"We often go down to the beach when it is sunset," she said.
"The kids like to have a run around and I take my camera down there."
Mrs Nelson said she had always loved taking photos and she bought her first camera when she was 12.
"I'm quite often with my camera.
"As I have gotten older it has become more of a hobby and people do give me lots of positive comments about my photos."
She said she had to thank teachers at her daughter's school who all voted in the competition.
"It's pretty exciting. I didn't think I was going to win."
Mrs Nelson said anyone interested in photography should experiment at taking different photos.
"That is the best tip I can give someone - just try taking photos from different positions.
"It might feel a bit awkward but you might capture something from a different perspective."
She said people also shouldn't write off their photos until they have looked at them properly.
"You might look through the photos on the back of the camera and not like them but once you see them on your computer screen they look completely different.