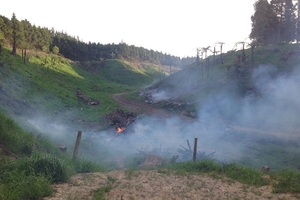 A rural rubbish fire quickly got out of control setting 150m of shelter belt and a large pile of logs alight.
Firefighters were called to battle the blaze, which had broken out on Angland Drive, Te Ranga, about 5.15pm yesterday.
Greg Rosburough, who lives on the neighbouring property, said it was fortunate the wind direction did not change or their house could have gone up in flames.
"We could feel the heat from our home," he said.
It was unfortunate the fire managed to jump across the road to set the shelter belt on fire, he said.
When the Bay of Plenty Times arrived smoke was billowing out from the gully where small pockets of flames were still burning.
Te Puke fire chief Glenn Williams said about 150m of the shelter belt was "raging away" when the first truck arrived.
"Then we've got a whole lot of pockets of fire here," he said.
"I think they were burning the rubbish that's down in the gully and some of the embers have jumped across into the shelter belt."
Mr Williams said firefighters were hampered by the lack of access to water.
Once the worst of the fire was out they had to stop while the tanker went to refill.
The brigade was at the property for more than three hours.
It was another reminder to rural residents to take extreme care when burning rubbish, he said.
"This is the third one in less than a couple of weeks where people have been burning rubbish and it's spread to shelter belts.
"If we're not going to have much rain the chance of this happening is going to be very high. Some farmers and orchardists are going to be getting pretty big bills if they don't watch the conditions where they are burning."