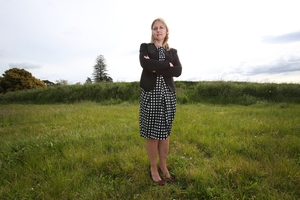 Two companies have been asked to pay $15,000 after damaging archaeological artifacts during earthworks at a Tauranga site.
An Auckland-based company, Neil Construction, and Tauranga-based S&L Consultants pleaded guilty to damaging an archaeological site in Pyes Pa without an "archaeological authority".
Judge Thomas Ingram yesterday convicted and discharged the two companies when they appeared in the Tauranga District Court, on the basis that they each paid a donation of $7500 to the Historic Places Trust.
The lower northern regional archaeologist for the trust, Dr Rachel Darmody, said the damage occurred in March when the companies resumed work on the Plateau Heights subdivision development on Quail Court, Pyes Pa, without the necessary consent.
Part of the planning advice given to the developer was that it was a significant historical site and builders would need to apply for an archaeological authority before work was carried out, she said.
An archaeological authority had been granted a few years earlier and some of the site had been excavated with the help of an archaeologist but the authority had expired.
"The first authority did allow them to destroy it but it was just so that it would be recorded," she said.
"When they went in again without a new authority we were surprised."
Iwi alerted the Historic Places Trust to the fact that work had been resumed but by that time at least eight archaeological features had already been damaged.
"The damage to the middens was significant, and could have been avoided. The defendants made a basic and careless mistake by not checking that an archaeological authority had been in place," Dr Darmody said.
Archaeologist Ken Phillips, who had previously worked on the development, described it as a village site with middens, hearths for cooking and pits for storage. The wider area would have been used for cultivations.
"The remorse shown by both defendants and their co-operative attitudes were helpful," Dr Darmody said.
"We believe that this is an appropriate sentence in light of the circumstances."
The companies had now applied for and been granted new archaeological authorities allowing them to destroy artifacts as long as an archaeologist was there to document the finds and work was now underway again.
Dr Darmody said there had been other prosecutions in the Bay of Plenty but she could not remember a case quite like this one. "I don't remember one where they've had an authority and then forgotten about it and started up the work," she said.
The donations would be used to continue the work of the trust but Dr Darmody said she would like to see some of it put towards running public lectures, talks and field trips to teach people about local archaeological sites.
Neither of the companies returned calls from the Bay of Plenty Times yesterday.