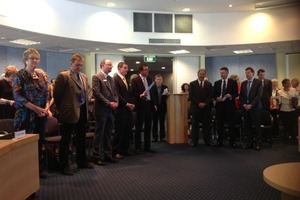 The newly formed Tauranga City Council is being sworn in this afternoon.
Stuart Crosby is again being sworn in as Mayor and Kelvin Clout will be deputy.
The ceremony started in the council chambers at 1pm.
First term councillors Steve Morris, Gail McIntosh, Bev Edlin, John Robson, Clayton Mitchell and Matt Cowley join Catherine Stewart, Rick Curach and Bill Grainger in the official ceremony.