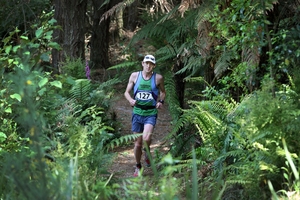 The Smiths Sports Tauranga Trail Run is just under a month away and entries are already well up on last year.
The November 24 event is held within the TECT All Terrain Park at the top of Pyes Pa Road and is the major fundraiser for the Tauranga Boys' College cross country team. More than 250 entries have been received, 40 per cent up on the same time last year.
Run and walk options are available, with distances from 5km up to 30km. Russell Lake won the 30km section last year.
The Bay of Plenty Times is sponsoring the 5km distance and helping to promote the the popular, local off-road event first held three years ago. Part of the attraction is the great value for money, with distances costing just over $1 per kilometre - the 10km event is $15 for an adult, the 5km distance is $7 with the bonus of parents' entry free with their children.
Boys' College teachers Brad Smith and event organiser Scott Furness had been looking for an ideal venue for a fundraising run and the timing of the TECT Park's opening was just what they were looking for.
"Brad and I had been on several long bush runs around the area looking for an ideal location, but it wasn't until the park opened that we thought we'd found something special," said Furness.
"The park staff have been awesome helping us out with designing the routes we use, taking in native bush, stream crossings and the Te Rerenga Tunnel. We have also had gangs of students and parents up there putting in new trails and planting trees."
The duo hope to see the event continue to grow beyond the 600 entrants of 2012 as word gets around about the course and the All Terrain Park itself - a collaboration between the Western Bay Regional Council and the Tauranga City Council, which received an industry award as New Zealand's Outstanding Park in 2011.
Entries are available from Smiths Sports Shoes or Tauranga Boys' College.