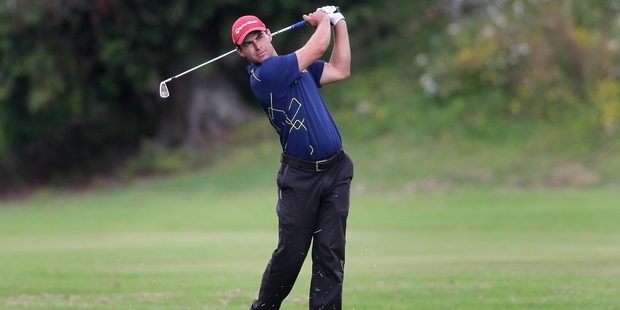 Omanu professional James Hamilton has delivered one of the best finishes ever seen in the history of The Charles Tour on a memorable weekend for Bay of Plenty golf.
The 24-year-old secured his first title on the popular tour when he birdied the 17th and eagled the par five 18th to come from behind and upset Mount Maunganui's Josh Geary to win the John Jones Steel Harewood Open by two shots.
Hamilton, who held a one shot lead heading into the final round in Christchurch, carded a two-under par 70 to finish on a nine-under par, 279 total to win by two strokes and secure the biggest win of his golfing career.
Hamilton's younger brother Craig, also a touring pro out of the Omanu club, finished tied for sixth, while Tauranga's Jared Pender was a shot further back. The strength of the amateur ranks in the Bay was shown by fine performances from Rotorua's Peter Lee, who finished fifth, and Tauranga's Sam Davis, who was 10th.
Hamilton's overwhelming feeling after securing the title in the $40,000 event was one of absolute relief.
"I am relieved, ecstatic, just stoked," said Hamilton.
"This is a huge moment for me. I have played in about 15 of these [Charles Tour events] and to win one is an unbelievable feeling."
The former Bay of Plenty rep, who finished as the player of the tournament in the 2008 Toro Interprovincial tournament, is in his second year as a touring pro. He delivered a clutch birdie putt on the 17th to get into a share of the lead after Geary had birdied the par 5 16th.
"I was feeling good on the 18th tee," he said. "I was just telling myself to cool off a bit. I was pretty pumped up. I just kind of relaxed and got back into it."
Hamilton delivered the championship defining shot when he hit his approach to the 512m par 5 18th to around 22 feet to set up an eagle chance.
His putt on the last, which was met by a huge roar from the sizeable gallery when it dropped, will be his standout memory from his breakthrough win.
"I rammed it. It was never going to be short. I said that to myself. It was awesome to see it go in."
Hamilton will have to change his plans for summer. He had intended to take the next five months off golf to get back into work and then rebuild in an attempt to qualify for the Euro Pro Tour.
He was unsure what the win means for his golf career.
"Hopefully this is a stepping stone to bigger things for me. Maybe the Euro Pro Tour next year. So I will try to carry this form on into next year."
Hamilton paid tribute to his mentor Geary, who helped him as a youngster with golf clinics in the Bay of Plenty, and said he was the benchmark for his game.
"He is pretty much the guy I have looked up to my whole golf career in the Bay," Hamilton said.
"He is the best, isn't he? He is one of the best players in New Zealand and he does it quite consistently. He helped me a lot throughout my career as well. He is a few years older than me and he has held some clinics in the Bay and showed us how to play some shots. It is pretty funny looking back on that.
"Beating someone like Josh means that I am on track. I don't know what else to say. He has been a mentor for me over the years and to beat him is a huge honour."
Tournament favourite Geary was looking to make history at Harewood. He was hoping to become the joint-most successful player in the history of the Charles Tour, alongside Michael Hendry and Doug Holloway, with four titles.
He lipped out at least five times throughout the final round and conceded it was just one of those days.
"That is golf," said Geary. "I actually played pretty solid. I had five or six lip-outs, some of them pretty bad ones, just nothing was dropping."
Geary was disappointed to miss a good opportunity but he paid tribute to Hamilton for his grandstand finish.
"I was impressed with the way he played the last two holes. He bounced back really well to have a birdie/eagle finish. I hope that he pushes on from this win and does something good in the next few weeks. He played really well under pressure and hopefully now he will be on his way."
Levin golfer Tyler Hodge fired a last round two-under par 70 to secure the leading amateur honours.
In the women's section Wellington No1 Julianne Alvarez successfully defended her title by five strokes from Taupo amateur Grace Senior (70), who is a Mount Maunganui resident.
The 17-year-old from the Manor Park Golf Club, who won her first national title at the Charles Tour event in 2012, carded a two-under par 70. Russley golfer Elisha Crosbie (70) secured third place, but this week will be remembered for the dominant performance from the defending champion.