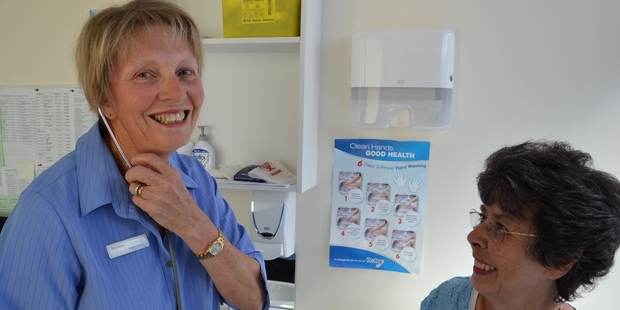 Tauranga patients could save time and money if a proposal to allow nurses to prescribe certain medications continues to gain momentum, a Nursing Council of New Zealand spokeswoman says.
The nursing council was asked by Minister of Health Tony Ryall to send out a consultation document outlining a possible framework for nurses prescribing medication to help ease pressure on GPs.
The proposal suggested extended prescribing rights to suitably-qualified registered nurses, enabling them to work in teams to prescribe for common conditions such as diabetes, asthma and hypertension.
The council received 197 submissions in response, with 93 per cent in support, including one from the New Zealand Nurses Organisation.
President Marion Guy said the concept would have huge positive impact for Tauranga residents "given our ageing population".
Mrs Guy, who has just been re-elected to the Bay of Plenty District Health Board, said empowering nurses with more prescribing rights would allow patients to be seen to quicker, alleviating pressure on GPs and hospitals.
She said there was concern from doctors that practice nurses were taking over their roles "but it's not like that at all".
"There are restrictions to what they can prescribe and they have to go through rigorous training to go through with that." Nurses will take post-graduate study related to prescribing and work with a prescribing mentor such as a doctor or nurse practitioner.
Nursing council manager of strategic policy and projects Pam Doole said some ailments and illnesses were identified by community and school nurses and the patient was required to make a second appointment with a doctor to obtain a prescription.
"If the nurse was able to prescribe, this would save the patient time and money," she said.
Chief executive Carolyn Reed said the council would move ahead more quickly with the specialist nurse prescribing.
"The major outstanding issue is agreement on the list of medicines nurses can prescribe and we are going to set up an expert working group to help with this," she said.
"Nurses already have a significant role in health promotion, disease prevention and in the assessment and treatment of minor ailments and illnesses ... They already commonly supply and administer medicines under a standing order from a doctor.
"The new prescribing regime would enhance the services nurses can deliver and also improve accountability for the prescribing decisions they make."
Mr Ryall said previous trials involving diabetes nurses prescribing had been beneficial to patients, nurses and the health service.
Nurse: Rule change would take pressure off doctors
Giving nurses more power to prescribe medication will have huge benefits for Tauranga, says the region's only primary health care nurse able to hand out prescriptions.
Rosemary Minto works at Katikati Medical Centre and said her ability to prescribe medication as a nurse was invaluable.
Ms Minto said she was the only primary health care nurse practitioner in the Bay able to prescribe but enabling more nurses to do the same would be "huge for the Bay of Plenty".
"There's more than enough work for everybody. There are nurses who see people for things like ... chronic skin conditions, but they just don't have the legislation to do it [prescribe].
"A lot of the time they are knocking on the doctor's door saying 'I've done this, this and this, can you sign?"'
This week the Nursing Council of New Zealand announced it received overwhelming support for a consultation document proposing to extend nurses' prescribing rights.
She said it had been a long time coming. Ms Minto also acts as chairwoman of the College of Primary Health Care Nurses but will step down from the role next month after three years for family reasons.
Prior to her role as chairwoman of the college, Ms Minto was chairwoman of the College of Practice Nurses for four years.