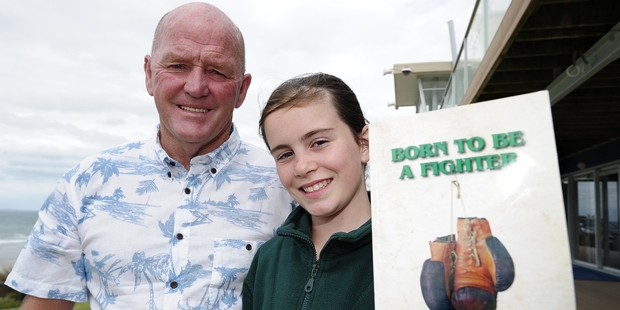 Denny Enright is proud to have left school early to become a fighter.
Almost 50 years later he is prouder still to have written a book all about it.
"I didn't like school, I was a sportsperson," said Enright.
"I wanted to be a fighter - I can write a book though."
It has been a long process for the 64-year-old former dual national boxing champion and light welterweight winner, who has spent 23 years on the project which tracks his family's storied involvement with the sport.
The title Born to be a Fighter is intended to inspire people struggling in all walks of life - especially with depression.
"The wider context of the wording is the battle we all face during life. It's not about just reaching out to fighters, it's relevant to people battling cancer, battling to hold a business or marriage together ... everything."
Enright, who struggled with depression, credits wife, Nan, for helping him through his darkest moments.
"I wouldn't be where I am today if not for her help. She's a priceless little gem. It would have been easy for her to walk away but she stuck in there.
"I wasn't a bad person - I was just dealing with something I didn't know what it was. I wasn't man enough to go and ask for help. The result was it knocked me over.
"The message in the book is clear - don't be an idiot, put that staunch thing away and get out and get it treated."
The book also explores the career of Denny's father, Bill Enright, who won the national amateur title in 1939 from which he was selected for the cancelled 1940 Helsinki Olympics.
Thanks to tireless work from boxing historian and regular Bay of Plenty Times contributor Barry Leabourne, Bill was presented with his New Zealand blazer pocket alongside Tommy Dunn and trainer Son Tall more than half a century later.
"The thing with the blazer pocket was I didn't know how much it meant to him," said Enright.
"Six days out from his dying day I asked him what was the greatest thing he ever got out of boxing. He pointed his finger up to his silver fern badge."
The two families have a long history, with Denny coaching Leabourne's son Darryl to the national lightweight championship in 1991.
Enright, who largely compiled his 12-2 professional record at Invercargill's Civic Theatre, launched the book at the Omanu Surf Club, where his family have been members for more than 30 years.
All royalties from the book, costing $19.99, will go to the Conductive Education Southern Charitable Trust in Invercargill to assist children and adults suffering from cerebral palsy and motor disorders.