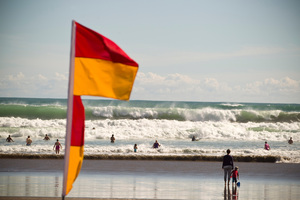 With the sun shining on Labour Weekend so far, Tauranga has been pumping with activities from the Tauranga Arts Festival, Little Big Markets, Wheels on Mainstreet and the world record dive bomb, all reported in today's paper. On Saturday, after Wheels on Mainstreet, like many others I headed to the Mount beach for a dip.
It was the first day of volunteer patrols by Surf Life Saving New Zealand. As Julia Proverbs reported in the Bay of Plenty Times Weekend about 500 regional and volunteer lifeguards will patrol seven Bay beaches this summer. With the unseasonably warm weather we are having, the summer season is predicted to be busier than ever.
Although Mount Maunganui is ranked the fourth busiest beach nationally, and Papamoa and Omanu clubs are also in the top 10, like our other lifesaving clubs, these clubs do their own fundraising as well as receiving funding from Tauranga City Council.
The value of these injected funds as measured by human life is priceless: no one has ever drowned between flagged areas on a New Zealand beach, according to Surf Lifesaving regional manager for the eastern region, Chris Emmett.
The investment into our region's surf lifesaving clubs also has an economic return, as tourists coming into the region will be attracted to the appeal of safe, patrolled beaches.
However, as this paper noted during last summer's surf lifesaving season, the annual amount Tauranga City Council gave to surf lifesaving clubs last year was just $152,000.
The volunteer lifeguards do a fantastic job, but as our beaches get busier it would be preferable to have paid lifeguards for a longer summer season and also to extend their presence on busier stretches of beach.
Clearly our regional surf lifesaving clubs are providing an essential service to an increasingly busy piece of coastline. In order for this to continue and develop into a service that meets the needs of locals and visitors it requires strong collaboration between the clubs, the council and other key stakeholders in the Bay.
Given that the region markets itself on the appeal of its beaches, investing in a plan to maintain safety is not only a human imperative, but an economic one.