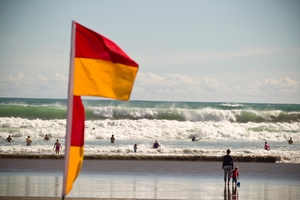 The distinctive yellow and red flags fluttering on our beaches this weekend are an encouraging sign that summer is on its way.
Surf Life Saving New Zealand begins its volunteer patrols today, with lifeguards on duty at four of the seven Western Bay of Plenty beaches.
Lifeguards from Mount Maunganui Lifeguard Service, Omanu Surf Lifesaving Club, Papamoa Surf Lifesaving Club and Waihi Beach Lifeguard Services will have their eye on those brave enough to dip their toes in the water.
Further patrols will come on stream in December at Bowentown, Maketu and Pukehina.
Surf Lifesaving regional manager for the eastern region, Chris Emmett, says about 500 regional and volunteer lifeguards will patrol the seven beaches over the summer.
After an unseasonably warm winter, it could be a busy one.
"We have had 25 rescues over the winter months, from July until now. It's probably our busiest winter yet," says Emmett.
"It's symptomatic of the winter we've had. We've had quite a mild winter. Fishermen say the water never really got cold this year. What that points to we won't know until it happens but you can probably guess it's going to be a warm summer."
Last summer, 186 people were rescued from the surf on the seven patrolled Western Bay beaches.
Mount Maunganui was ranked the fourth busiest beach nationally, with 59 rescues, while Papamoa and Omanu also made it into the top 10 with 55 and 45 rescues, respectively.
Emmett attributes the high number of rescues to the large number of people on our beaches.
"Every beach can be dangerous within its own right. It's all about the users and conditions," he says.
First and foremost, people should choose to swim at a patrolled beach, he advises.
"No one has ever drowned between the flagged area in New Zealand," he states.
Mount Maunganui Lifeguard Service, the Western Bay's oldest surf club, carried out almost a third of the region's rescues last summer, as well as providing first-aid on 120 occasions.
General manager Glenn Bradley says the main Mount beach can be changeable.
"It's a different sort of beach, different to the rest of the coastline. It's a short beach with rocky outcrops at either end ... with a moderate surf running. It's not uncommon to have three rips running," he says.
"The main Mount beach is a hotspot because it's the most popular area."
The high number of first aid callouts is due to the club's proximity to Mauao.
The iconic landmark sees its fair share of sprains, strains, fatigue and medical conditions.
"We have a significant number of incidents," says Bradley.
"As a pure surf club it sits outside our brief but by nature we're there to help and assist. We have a good working relationship with St John Ambulance. We are able to access terrain - we have the ability to do that with our vehicles," he adds.
The club began in 1929, with a few young volunteers, some wooden planks, and a surf reel and line rescue.
It operated from a prefab hut, sourced from the east coast railways, that sat near the current site.
Its claims to fame are that it was the first club in New Zealand to have a fully operational dedicated beach patrol vehicle, the first to install a "can buoy" rescue system along the beach and the first to establish a rescue radio network.
Last season, volunteer patrol hours were up 20 per cent on the year before and this year the number of members is expected to hit 500. "There has been growth across the board," says Bradley.
Over the winter months there has been a drive to upskill the club's lifeguards.
"We are striving to be world-class. It's a real focus for us and our lifeguards really responded to the challenge."
Local lifeguards will be joined this season by a dozen lifeguards from the United Kingdom and France - double the number of overseas recruits last year.
"They bring knowledge from their areas and contribute in a number of ways to the club."
Omanu and Papamoa Surf Lifesaving Clubs lay claim to having the largest junior programmes in the country, with over 800 "Nippers" between them. "Last year we had 480 under-14 members," says Omanu chairman Donal Boyle.
"We tend to get a lot of families join the club. In my case, my daughter started at 5, I helped with the juniors and I'm now chairman," he says.
With more than 700 members in total, the club is also the second largest in New Zealand, behind Orewa.
"We've got seven patrols this year, averaging 21 lifeguards per patrol," says Boyle.
Founded in 1947 as the Omanu Pacific Surf Life Saving Club, it was later renamed Omanu Papamoa Surf Life Saving Club.
In 1990, due to strong population growth in Papamoa and Papamoa East, it split its assets and helped to establish the Papamoa Surf Lifesaving Club, which now has more than 600 members.
Lifeguarding is as much about preventing people from getting into trouble in the water as it as about saving them, says Boyle.
"It's about making the beaches safe and educating people."
Lifeguards across the Western Bay took nearly 13,000 preventative actions last summer, steering individuals and groups of people away from danger spots.
"Don't swim alone. Go with a group of people and look at where other people are swimming," he advises.