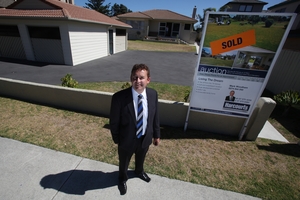 The effects of the Government's mortgage lending restrictions are starting to be felt in Tauranga but the full impact of the changes are unknown, Tauranga real estate professionals say.
Harcourts Advantage Realty Bay of Plenty manager Simon Martin said he was aware of a couple of people who were not able to go through with their agreements, but those properties had been picked up by investors.
"It has had an impact, but what exactly that impact is will be interesting to see.
"Last month there were no sales in Tauranga under $200,000; we had 38 over the last 12 months."
Mr Martin said there were not many houses to rent in Tauranga, so investors were prepared to buy property, especially as those people who could not buy homes would now have to rent.
Ross Stanway, chief executive of Realty Services, which operates Bayleys and Eves, said the changes would have an effect for a time, but people were resourceful.
"Many are finding other sources of finance, whether that is family or other lenders. Not unpredictably, it has affected things but the extent so far has not been significant.
"Not everybody who buys a house is affected by this so a lot of people are still able to buy the house they want."
Mr Stanway said there were still a lot of people looking to the Bay of Plenty as the Auckland housing boom continued.
Ray White Papamoa/Mount Maunganui principal Greg Purcell said to get around the rules, home buyers would use third party lenders or get money from their parents. He said some home loan approvals would have gone through before the changes so some buyers had a bit of time up their sleeves to buy a property.
"It's hard to know at this stage what the significance the changes will have. I would have liked to see geo-specific laws so certain markets had certain criteria. It's not really fair that the country should pay the price of one specific market."
When spoken to by the Bay of Plenty Times earlier in the month, principal and owner of LJ Hooker Mt Maunganui and Papamoa, John O'Donnell, said he had noticed a drop in first-buyer inquiries and believed it would not be long before rental prices rose because people were unable to buy a home.