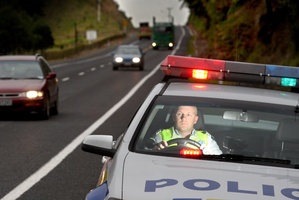 The Western Bay's most dangerous drivers will be the focus of a police crackdown aimed at making the roads safer for Labour Weekend.
Police will be out in force today visiting people who have 100 or more demerit points and ordering them off the road as part of Operation Presence.
Bay of Plenty district road policing manager Inspector Kevin Taylor said the NZTA sent suspension notices to people when they had racked up too many points and police were then tasked with finding anyone who could not be located. "We'll be knocking on their door inviting them not to drive. We're doing people a favour by finding them at their home address rather than on the highway."
Mr Taylor said getting those drivers off the road was always a priority, especially before a long weekend. "Labour Weekend is the first holiday coming out of the winter month ... and we start to see an increase of visitors to the district.
"We will be looking to reduce the road risk by actively locating road users who have shown, by repeated offending, that they cannot responsibly use our road network, and we will be serving driver licence suspension notices to as many of those drivers as we can locate prior to the weekend," he said.
Police will also be running checkpoints and visiting schools to hand out information about the up-coming change to the child restraint law today.
The holiday weekend officially starts at 4pm today and ends at 6am on Tuesday. Police will be visible on the roads throughout the weekend and any drivers caught going more than 4km/h over the speed limit will be fined.
Mr Taylor said speed, alcohol and fatigue were particular risks. "Our staff will also be paying attention to slow vehicles that can often lead to frustrated drivers carrying out risky or dangerous overtaking manoeuvres. If you are towing a caravan or boat be mindful of other drivers and pull over to allow them to pass safely where the opportunities arise," he said.
Plunket national child safety advisor Sue Campbell said it was important children were properly restrained.
Tauranga Coastguard operations manager Simon Barker said many people would be heading out in their boats for the first trip of the season and it was important they remembered to wear lifejackets and tell someone where they were going.
Demerit points
Exceeding the speed limit by:
Less than 10 km/h 10 demerit points
11km/h to 20km/h 20 demerit points
21km/h to 30km/h 35 demerit points
31km/h 35km/h 40 demerit points
More than 35km/h 50 demerit points
Source: NZTA
Summer burst heads for Bay
The Bay of Plenty is in for a slice of summer during Labour Weekend.
Weather Watch analyst Philip Duncan said the Bay would be one of the better places to be. A few showers and a brisk northwesterly were forecast for this afternoon but by tomorrow the sun would be shining.
"When you wake up on Saturday it's looking pretty good sunny, warm and not too much wind,'' Mr Duncan said. "Burn times are pretty short now. Think of it like being like summer. Even if the temperatures aren't up, the burn times are.''
Sunday and Monday would be much the same although showers were likely Sunday night. A westerly should make for good sea conditions, although the wind was likely to be strong at sea.
Joanna Moran, from the Pasifica Garden Centre, said Labour Weekend was usually busy at the store. It was the ideal opportunity to get the vege garden planted.
"Now we're past the wind and the horrible weather it's the perfect time to put in all your tomatoes and lettuces.''
Lots of colourful flowers were starting to bloom too.