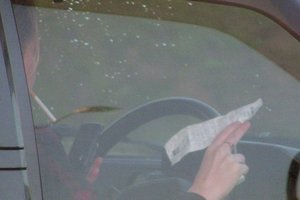 People are continuing to flout a law banning the use of cellphones while driving.
So far this year, police have fined 242 Western Bay drivers for using their mobile while behind the wheel.
Last year, 380 Western Bay drivers were caught compared to 138 in 2010. The law came into effect on November 1, 2009.
Western Bay of Plenty road policing manager Senior Sergeant Ian Campion said the advertising campaign which ran when the ban was announced convinced most drivers to abide by the law.
"As the years have gone on, the level of compliance has dropped and that's why there are more people being issued with infringement notices," he said. "People need to remind themselves it is a significant risk to be using your cellphone while you are driving, and particularly texting while you are driving."
Driving a vehicle required careful observation and concentration, and distraction could have serious consequences.
Mr Campion said the danger was two-fold.
"One, you have to take your eyes away from the road and, two, you're concentrating on something completely different to what you should be. Really, it's a no-brainer to be perfectly honest."
Only a small minority continued to flout the law and he was encouraged to regularly see people pull to the side of the road to use their phones.
Bay of Plenty district road policing manager Inspector Kevin Taylor said there had been an increase in infringement notices each year.
There had been a number of serious injury and fatal crashes in the Bay of Plenty in recent years relating to cellphone use, he said.
One of those involved Rotorua truck driver Garry John Galvan, who was found to be texting at the time of a fatal crash in 2011. Using hands-free kits was legal but Mr Taylor encouraged people not to use phones at all while driving.
"It's not actually what you are doing with your hands that's the problem, it's what you are doing with your brain."
Tauranga driving instructor Carl Winter said he was concerned about the number of people he saw using phones while driving.
"You're brain's distracted. You're not concentrating on driving," he said.
"You've got to be fully focused. Even people talking to you can distract you."
Mr Winter said the best solution was for people to turn off their phones while driving, so they were not tempted or distracted by it ringing.
The number of people he saw using their phones while driving suggested the ban was not working, he said.
Drivers using handheld mobiles can be fined $80 and given 20 demerit points.