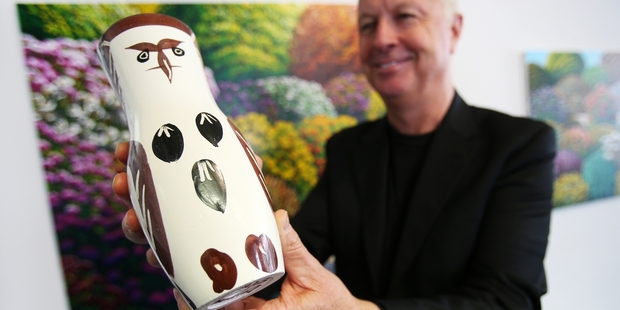 Those with a spare $16,000 could bag themselves an original work by Pablo Picasso being exhibited at the Tauranga Arts Festival.
Auckland's Gow Langsford Gallery has set up an exhibition in Grey St, with original and limited edition work of artists including Picasso, Charles Goldie and Colin McCahon.
Gow Langsford Gallery director Gary Langsford believed it was the first time an original Picasso artwork had been available to buy in Tauranga as part of a gallery exhibition.
In 2009, an exhibition in Tauranga called Images of Europe displayed 40 pieces of 16th to 21st Century European art. That included a Picasso lithograph, a limited edition quality print, but it was not for sale.
The Tauranga Art Gallery did not confirm if any Picasso works had been on display there.
All the works in the current exhibition are for sale and prices range from $1000 to $260,000. The original Picasso etching, called Five Nude Prostitutes, and a vase he painted have price tags of $16,000 each.
A smaller Picasso etching will cost $12,000.
The Goldie oil painting on wood Drowsy is priced at $260,000, while McCahon's Canterbury Landscape is $245,000.
Mr Langsford said the gallery was founded in 1987 but had never exhibited in Tauranga.
"I just saw the Arts Festival programme grow each year and thought it would be a good fit for us to display some work."
He said he had sold artwork to Tauranga buyers through his Auckland Gallery and he brought the exhibition here because he believed there was a market for fine art in Tauranga.
He said original Picasso paintings often sold for millions and the etchings were more affordable.
"We did have an exhibition of paintings in Auckland in 1998 where we sold Picasso paintings for about US$1 million but they now start at about $7 million."
Other high-profile artists featured in the exhibition include Paul Dibble, Dale Frank, Dick Frizzell, Max Gimblett, Chris Heaphy, Michael Hight, Gregor Kregar, Sara Hughes, Hye Rim Lee, Karl Maughan, Judy Millar, Reuben Paterson, John Pule and John Walsh.
"Charles F Goldie is undoubtedly one of New Zealand's most famous artists, Colin McCahon is generally regarded as New Zealand's greatest painter, Dick Frizzell is celebrating 50 years in the art industry, Judy Millar has represented New Zealand twice at the Venice Biennale and Max Gimblett's work is featured at the Guggenheim," Mr Langsford said.
The exhibition will run until Sunday November 3 at Rydal House, 29 Grey Street, from 10am to 6pm daily.