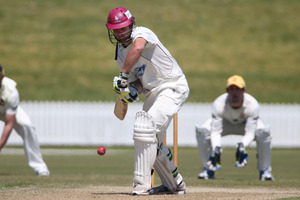 The appeal of Blake Park and Bay Oval was evident yesterday as cricket and sevens rugby attracted New Zealand sporting royalty to within 200m of each other.
New Zealand selector Bruce Edgar looked on as Northern Districts made a fair start with the bat in the first innings of a practice match against the Wellington Firebirds, while Sir Gordon Tietjens turned film star across the road on a field sporting his name.
The masterful sevens coach was filming a tutorial of sorts for sevens coaches that will be made available through the NZRU's website.
"Obviously the demand from coaches for more sevens information is getting more and more so we've decided to get the pearls of wisdom from Sir Gordon Tietjens and put it together as a sevens section," said NZRU game development manager Richard Skelly.
"We're not trying to get the teams across the country playing the same brand, we're just providing technical resources for individual coaches to take out of it what they will to develop their flavour of rugby.
The same applies in sevens as fifteens."
Young Bay of Plenty Steamer Elijah Nicolas was leading a group of mostly young, local players to help with the shoot.
"It gives an insight into the way he coaches and why New Zealand is at the top of the ladder," said Nicolas.
"He's showing us a few things and then getting it on tape for other teams in New Zealand and around the world."
Nicolas has switched his attention to the abbreviated form of the game as sevens continues to gather momentum in the lead-up to the Olympics.
He hopes a strong showing at the upcoming sevens national tournament in Rotorua will put him in the frame for a place at a national sevens camp.
Both cricket and sevens returns to the Mount today.