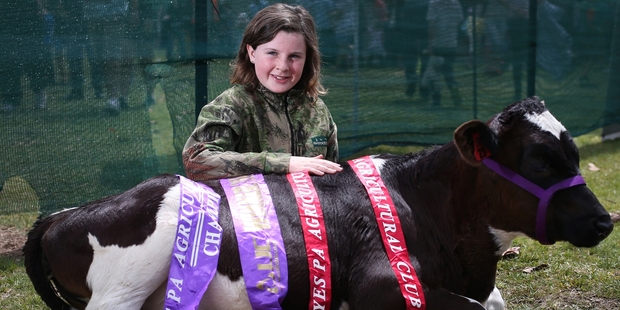 Ten-year-old Abby Snodgrass knew Coco the calf was a good investment but she never imagined she would win four top prizes.
The Pyes Pa School student bought the 3-month-old Friesian heifer soon after it was born and had been rearing it in preparation for the Pyes Pa School calf club and gala day, which was held on Saturday.
Abby and Coco were awarded champion calf, first in leading, best reared and first in the dairy breed category.
"It was cool," Abby said. "I thought we'd lose."
Abby bought the calf, which has a high breeding worth, for $200 and raised it herself.
"She's really tall. She's taller than the others and stronger. When I saw her she was really friendly and she looked really good," she said.
"I patted her lots and led her and fed her every morning and afternoon."
As for what's next for the prizewinning heifer, Abby said she would probably sell Coco to a dairy farmer when she was older.
Mother Jacqui Snodgrass said Abby had reared the cow on milk powder and calf meal until they had been able to wean her on to grass about two weeks ago.
The family were dairy farmers but now run a fertiliser company.
The awards may have been the day's highlight but there were also paintball, cow poo bingo, and tractor and fire engine rides.
Amy McGillivray