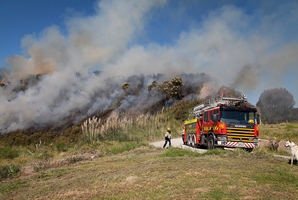 An out-of-control rubbish fire threatened a house and took firefighters more than four hours to put out.
Firefighters were called to the blaze on a steep section of gorse and toi toi on a property on Maungarangi Rd, Paengaroa just after 2pm yesterday.
Mount Maunganui, Maketu and Te Puke fire trucks and a tanker were used to fight the fire.
Maketu deputy fire chief Eric Ashe said it was a rubbish tin fire that got out of control and spread to an area about 30m x 50m in size.
The fire threatened the house at the top of the hill at one stage but firefighters managed to keep the blaze under control, he said.
"Once it gets into gorse and toi toi it doesn't matter how green they are, they just go," he said.
Firefighters had to pump water from a reservoir on the farm.
Mr Ashe said it took firefighters about four-and-a-half hours to put out the fire.
Nearby residents watched from neighbouring paddocks with beers in hand and helped pump water for the firefighters.
Graham Melton told the Bay of Plenty Times his brother owned the land but rented the house out to tenants.
He said it appeared a spark from an incinerator fire started the fire.
Western Bay Moana Rural Fire Authority principal rural fire officer Barry Low said the person who started the fire did not have a permit and could be billed for the cost of putting it out.
A full-time crew such as Mount Maunganui cost about $600 an hour while volunteer crews cost about $400 an hour plus the cost of the tanker, he said.
The restricted fire season begins on October 1 each year and remains in force until April 30. A permit to burn is required during this period.