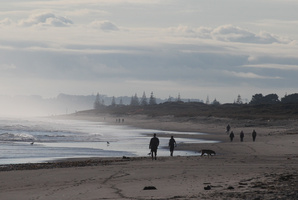 The boom times have returned to Papamoa prompting speculation the area could become a "mini Gold Coast".
Perish the thought.
The Bay of Plenty Times Weekend revealed a number of major projects in the growing suburb including a new Catholic primary school, two new lifestyle villages, a new kindergarten and - eventually - a shopping centre to rival Bayfair.
The developer driving the boom, Bill Miller, of Bluehaven Management, says people are coming from all over the world - Germany, England and South Africa - to buy at Wairakei.
Bluehaven has the rights to develop half the 200ha of residential-zoned land lying between the Wairakei Stream and the new motorway.
The city council has so far issued Bluehaven with 500 consents for what will eventually become a township of about 3300 houses and 100ha of industrial developments.
Mr Miller says almost all the 500 sections are sold.
All this is good news for the construction sector and related industries.
It is also good for the job market and the local economy because it creates work for local people.
Those moving into the area also bring a variety of skills that are needed in the rapidly growing Western Bay.
The latest Census has revealed that Papamoa's population has grown by 21 per cent since 2006 - reaching nearly 20,100.
It's a fast rate of growth and presents a number of challenges to planners.
While development is a sign of a healthy economy, it is important the region does not compromise the natural features that make our stretch of coastline unique.
Careful planning is needed to ensure that the special character of the area that is attracting people from "all over the world" is protected - and we don't become a mini Gold Coast.