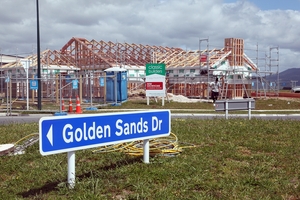 The boom times have returned to Papamoa where a new town of 7000 people is taking shape so quickly that sections are being sold off plans, with predictions the area could become a "mini Gold Coast".
While the market was still focused on conventional house and section packages, the developer driving the boom, Bill Miller, of Bluehaven Management, said people were coming from all over the world - Germany, England and South Africa - to buy at Wairakei.
The Bay of Plenty Times Weekend can reveal a number of major projects in the growing suburb including a new Catholic private school, two new lifestyle villages, a new kindergarten and - eventually - a shopping centre to rival Bayfair.
Bluehaven has the rights to develop half the 200ha of residential-zoned land lying between the Wairakei Stream and the new motorway.
The city council has so far issued Bluehaven with 500 consents for what will eventually become a township of about 3300 houses and 100ha of industrial developments.
Mr Miller said that virtually all the 500 sections were sold, including a 145-section retirement village and three hectares for a Catholic primary school. A new kindergarten will also be built on land neighbouring Wairakei.
The Golden Sands School, which opened two years ago, now has a roll of 285 children with two new classrooms opening next month.
Driving the boom was the lure of living beside one of the country's best beaches. Mr Miller said it was likely he would live to see Papamoa become a mini Gold Coast.
As reported in the Bay of Plenty Times this week, the latest Census has revealed that Papamoa's population has grown by 21 per cent since 2006 - reaching nearly 20,100.
"Twenty years ago, Papamoa was nearly all baches, now virtually every house is occupied," Mr Miller said.
Once Wairakei was nearly full, the focus would switch to the rest of Papamoa East. "We are talking 6000 more homes all the way out to the Kaituna River."
This second stage was not due to start for at least 10 years and relied heavily on the construction of an interchange with the new motorway. It would usher in the development of a shopping centre to rival Bayfair.
In the meantime, the three retail neighbourhood centres planned for Wairakei included rules that allowed higher density development including apartment buildings up to four storeys high. But Mr Miller said they were not being rushed by people wanting to live in three or four-storey highrises.
All the activity was in the under $460,000 house and sections packages, with so much interest that Bluehaven sold 25 sites in 27 minutes to builders.
"There are 21 builders working with us at the moment," Mr Miller said.
They were only scratching the surface of the Wairakei baby boomer market.
"People don't want to be locked away in gated communities anymore, they want balanced communities with schools, medical services, retail shops and parks all at their fingertips and we are going to offer it to them."
Mark Fraser-Jones, of building company Venture Developments, said they built their first showroom in Golden Sands in February.
"We are selling around 10 house and land packages a month."
He was offering packages from $350,000 to $500,000 with three bedrooms, two bathrooms and a double garage.
"It is what people want, what they are looking for."
Greg Purcell, of Ray White Realty Focus, predicted that Papamoa would become the closest thing New Zealand had to the Gold Coast.
"It's all about spread. If people want to be by the beach around here then they have to spread out to Papamoa. Aside from The Lakes, it is the place that will expand.
"I remember when Papamoa was paddocks by the beach with three Keith Hay homes and the odd dog.
"Now look at it. New roads, new schools, new everything."
Mr Purcell said a lot of Tauranga people did not realise what was going on. "Papamoa is growing right under their noses but they haven't been out here for so long they wouldn't know."
Papamoa resident Allen Whitteker said he bought a section at the beach in 1987 and had loved living there since.
Mr Whitteker said while there was a lot of development in that time, it was for the good and had helped make Papamoa a wonderful, family-friendly place to live.
He said he was not concerned at future development as a result of growth in the area. Papamoa would never become like Surfers Paradise, he said
"I just don't see that happening."