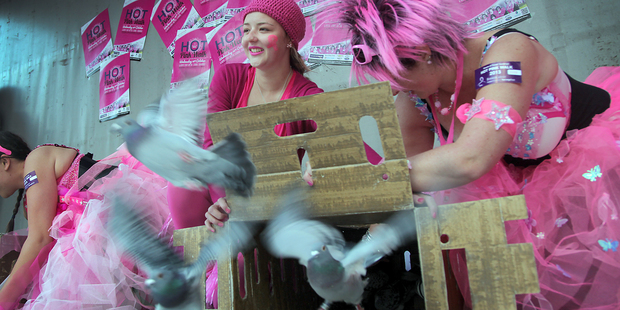 A new decade, new look and new direction were celebrated in vibrant style at Tauranga's annual Pink Walk.
Thousands filled The Strand last night as part of the HOT (House of Travel) Pink Walk, the flagship fundraiser for Breast Cancer Support Service Tauranga Trust.
Walkers arrived big and small, on two legs and four, all dressed in pink. Rain held off for most of the event, coming down heavy toward the end. But thousands walked on undaunted.
Allison Stewart, who helped coordinate the event, said there was a different feeling about this year's walk.
"With the bars and restaurants, there's a feeling like they've actually done a bit more this year. You can just see looking up the road like the balloons and the pink pizzas, pink bubbly and cocktails they've made up for the event, with all proceeds going to the cause.
"That's what makes an event, when people come together to do things."
The Pink Walk was the 11th in Tauranga and, for the first time, the walk changed course, heading in an opposite direction to previous years.
Breast Cancer Support Service coordinator Lea Lehndorf said she welcomed the changes because it made it more more exciting for people taking part.
"We think everyone's embraced it. There's been a few changes. New sponsor, new direction, men joining in," she said.
"Every year we do get a few men anyway but now we are actively encouraging it, there's a few excited men out there taking part."
Security guard Russell Horan said he had been helping control the crowd at the Pink Walk for six years and loved every minute of it "because everyone's having fun".
Dogs dressed in ballerina outfits and pink bows helped lead the throng of people in pink streaming through the central city. Toward the rear, Jan Ferguson rode her horse Shadow, dressed in four pink leg warmers.
"It's nice to see the kids' faces when they see a horse in town.
"If I got $1 for every pat he gets, breast cancer [charities] would be cracking that research they need."
Teen's pink salute for late mother
A Tauranga teenager who released pigeons into the air at the beginning of this year's Pink Walk said she would not have missed it for the world, despite it being the first without her mother.
Jessie McIndoe, 17 (pictured, left) lost her mother to breast cancer a year ago. Before then, Jessie, her mother and dad Paul McIndoe attended the walk each year as avid supporters of the cause.
At last night's HOT (House of Travel) Pink Walk Jessie released pigeons during the Moment of Reflection when walkers remembered loved ones lost to cancer.
Jessie said last night's walk was a celebration of her mother's life.
Mr McIndoe said his wife was dynamic, adventurous and accomplished many things in her time.
"We are sad she's passed away but we are not sad-sad, because she made the most out of her life while she was alive. She would rather we celebrated her life rather than be sad about what's happened," he said.
Not far from the pigeon release, wearing shades, bandanna and visible tatts, Mikee Te Ra did not look like your typical Pink Walk attendee.
Yesterday's walk was also the first for Mr Te Ra without his late wife, who died of breast cancer last year.
Mr Te Ra wore pink paint on his cheek and pink pois attached to his earrings.
The walk had significant meaning for his family and himself.
"I really appreciate it," he said.