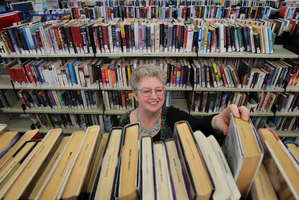 Hopes for a new Greerton Library have been reignited with the introduction of a new city council.
Tauranga Friends of the Library president Kate Clark launched a campaign called Greerton Library 900 after the previous Tauranga City Council decided in June to put the planned library expansion project on hold for another year.
Doubling the size of the 450 square metre building was priced at $3.3 million and $1.8 million has been collected by council from development contributions for library purposes.
The Bay of Plenty Times spoke to 10 of the 11 councillors. Eight supported development of a new library, but had differing views on how it should be paid for.
Mrs Clark said six members of the council had pledged to support the expansion before the elections. "These are people that really, truly understand the benefits of libraries including economic benefits to the area. From now, what needs to happen is the community needs to keep showing their support and in June when Annual Plan is made we will look forward to the new library being a big 'yes' and the foundations being dug soon after that."
Steve Morris, John Robson and Rick Curach were in support of the library, providing costs stayed within the $1.8 million collected from development contributions.
Mr Robson thought it was important for the council to find another $15,000 annually to pay for the library to be open on a Sunday, like the Papamoa and central city libraries.
Kelvin Clout said he was for it and the city had waited long enough. He said the city debt issue was major, but this was one project he wanted to see go through.
Matt Cowley said libraries were not just about books, but also other services they could provide to the community, such as upskilling people with the use of technology. He said he would support expansion provided it could fit in with the city vision.
Bev Edlin said the library was a community space and needed to be developed accordingly.
Mayor Stuart Crosby, Clayton Mitchell and Bill Grainger said they supported the library expansion. Catherine Stewart said she had an open mind but was against selling adjacent properties without consulting the city. She said she would need more information.
Gail McIntosh said was yet to study the full business case for the library and would need to be convinced doubling its size would not mean extra staff members. She was concerned about the ongoing operational costs of the library and the extra burden on taxpayers.