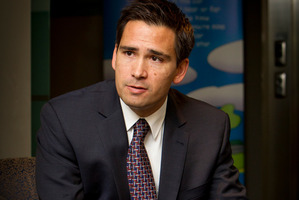 It was obvious from the outset that Tauranga MP Simon Bridges was spoiling for a fight when he was interviewed on Campbell Live this week.
Mr Bridges had endured a week of sledging from the programme about his reluctance to answer questions in relation to the oil and gas industry and the barbs obviously got under his skin.
Host John Campbell accused the Energy and Resources Minister of being incompetent after he failed to return calls and the show's producer suggested he reconsider his role as a Cabinet minister if he was reluctant to do interviews.
Both statements were over the top.
Mr Bridges said he had declined to appear on the show because he did not want to risk his comments being edited down to a couple of embarrassing lines.
He then added that the show was more melodrama than current affairs anyway.
The standoff came to a head on Monday when Mr Bridges fronted for a live interview and the broadcaster began speaking over him when he felt he had not answered the question.
The minister fired back, shouting and accusing Mr Campbell of being "nimby minded" by not wanting drilling in his back yard and not wanting to portray anything positive about the oil industry.
Clearly an interviewer should give the person being interviewed a chance to answer the question and Mr Bridges took exception to being cut off.
Reaction to what unfolded on the show has been mixed.
Some say Mr Bridges came across well - that he showed some mettle and that his reaction was a response to the sledging that had gone on.
A skilful politician should be able to answer questions and be assertive, whether the scenario is scripted or not, without losing his cool.
Mr Bridges failed to do this.
He said his heated response reflected his belief that the oil and gas sector could be a key economic driver for the country. If this was the message the minister wanted to get across to the public then it was lost soon after he lost his cool.