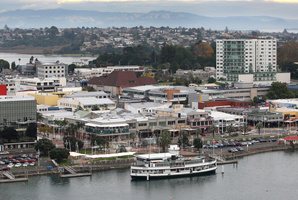 The Bay's ongoing population boom will mean better roads, more parks and improved sporting and cultural facilities, city leaders say.
Newly released Census data shows Tauranga's population jumped almost 11 per cent from 103,881 in 2006 to 114,789, making it the sixth-fastest growing territorial authority in the country.
The Pyes Pa community, including The Lakes development, has almost doubled in size, rising from 3048 in 2006 to 6036 at the 2013 census.
Bethlehem experienced the next biggest growth spurt, 26 per cent, with an extra 1514 people opting to call the suburb home.
Welcome Bay followed closely (17 per cent) along with Papamoa (12 per cent).
Meanwhile the Western Bay of Plenty's region's population grew 8.8 per cent in the past seven years, from 145,707 in 2006 to 158,484 this year.
Katikati experienced the biggest population growth, with a rise of 13 per cent to 4059 residents, while Waihi Beach saw an increase of 9 per cent.
Tauranga Mayor Stuart Crosby said the city's growth was lower than usual despite being higher than the national average.
"It's behind our normal growth, but that's a direct result of the global financial crisis," Mr Stuart said.
Five of the seven years since the last census had been spent in recession, when people weren't moving to Tauranga at the pace they were, he said.
Mr Crosby said growth was still occurring at a healthy level and he would not want to see population growth at a higher rate.
"High levels of growth actually cause significant problems."
Anything higher than 2 per cent a year gave cities the "speed wobbles" and made infrastructure challenging, he said.
National MP Simon Bridges said the region's population growth was great news and could only mean better things ahead.
"More people means more funding, better hospitals, roads, sporting facilities and cultural centers," he said.
"Bigger is generally better, which is great for this area."
Immigration from South Africa and the United Kingdom, and Kiwis shifting from Auckland and the Waikato were key contributors to population growth nationally.
New Zealand's resident population was 4.2 million in 2013, up from 4 million in 2006.
Auckland is still the fastest-growing region in the country, with a population that has grown by 110,000 people to 1.42 million people since the last census seven years ago.
Census data showed all 21 local board areas in Auckland increased in population, and Waitemata, Upper Harbour, Rodney, Howick and Franklin were the fastest-growing areas.
Government statistician Liz MacPherson said Auckland's growth was the equivalent of adding a population the size of Tauranga during the past seven years. After Auckland, the fastest-growing region was Nelson, followed by Waikato.
Overall, 47 out of 67 council areas grew in population.
The fastest growing regions were Selwyn, Queenstown-Lakes District and Waimakariri.
The census data also showed that New Zealand gained 7000 people a year from migration between 2006 and 2013; less than a third of the 23,000 gained per year between 2001 and 2006.
The population for the South Island hit one million for the first time, with the North Island population sitting at 3.2 million.
Christchurch's population dropped by almost 7000 since the 2010 and 2011 earthquakes but the number of people living in the Canterbury region jumped by 17,000.
More detailed information including data on ethnicity, sex, age and dwellings will be available in December.
additional reporting Isaac Davison