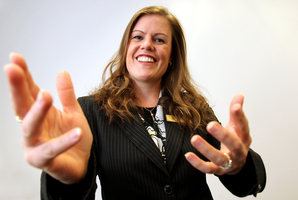 Young people are growing up without the right oral communication skills, which could affect their ability to get a job, says a local Toastmaster.
The news comes after the Speech Communications Association urged teachers to take oral communication skills seriously.
The association said schools could interpret oral language requirements as preparing PowerPoint presentations, learning the content and presenting to the class, with a minimal amount of speech and confidence skills gained.
Alan Holloway, a Distinguished Toastmaster in Tauranga, agreed oral skills were declining but did not think schools were to blame.
Mr Holloway said oracy was an important life skill, as getting a job involved making a presentation to an employer at an interview.
"If the person doesn't have the speaking skills to do that, then they will miss out. It's the communication skills they require to put their case across as to why they don't get the job."
Kirsten Sanson, a residential sales agent at Bayleys, said she signed up to Toastmasters a year ago to help her gain confidence in dealing with people in her new job. Mrs Sanson, 30, said she was a naturally shy person and felt she needed the extra support.
"In my industry, it's all about people. Toastmasters has been really good for me, in particular, the impromptu speaking has been really useful in my line of work."
Mrs Sanson said she noticed a lack of communication skills when speaking with younger people on the phone.
Ian Leckie, immediate past president of New Zealand Education Institute and principal of Tahatai Coast School, said there was less reliance on verbal communication than in the past.
"It is important to have these skills and that's absolutely recognised right from when 5-year-olds come in.
"At our school, we have 5-year-olds at assembly talking to the whole school. Our school sees that as being important, right through all the ages. That's how you build that confidence."
University of Waikato professor of English language Terry Locke said a decline in speaking skills may be due to the increase in "screens" such as televisions, cellphones and computers. "If there is some sort of decline, it's likely to be attributable to communicative practices in society as a whole, for example, less communicating at the dinner table and more of a focus on people being fixated by screens."
Speech Communications Association president Dianne Jones said professionals in the corporate world were having speech and confidence coaching to succeed in everyday tasks.