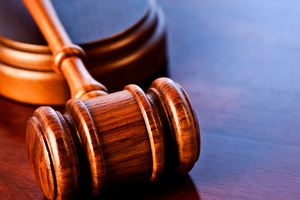 A Hairini man who lost his arm and cut power to 8000 homes in a drunken crash has narrowly avoided jail.
Russell James Burt, 42, was yesterday sentenced to nine months' home detention when he appeared in Tauranga District Court.
Burt was drunk and in breach of his community detention when he crashed into a concrete power pole as he tried to negotiate a bend on Poike Rd on July 4.
His station wagon slid sideways leaving a 74m skid mark before destroying the power pole.
It was the eighth time he had been caught driving while disqualified and the fifth time he had been caught driving drunk.
Burt's right arm had to be amputated above the elbow as a result of injuries sustained in the crash.
A blood sample revealed Burt had been driving with a blood alcohol level of 113 milligrams of alcohol per 100 millilitres of blood. The adult legal limit is 80 milligrams.
Burt's lawyer yesterday told Judge Louis Bidois his client had been struggling to deal with emotional, financial and family stress when he snapped and jumped into his car in a drunken state on July 4.
The court heard Burt admitted being drunk and speeding before the crash which cut power to homes in the four suburbs of Hairni, Ohauiti, Maungatapu and Welcome Bay.
The court was told that Burt took full responsibility for the crash and planned not to touch alcohol again.
Last month he pleaded guilty to careless driving, driving with an excess blood alcohol and driving while disqualified (both third or subsequent offences) and a breach of community detention.
When asked by Judge Bidois what his month in jail had taught him, Burt replied: "A very serious lesson. I spent every hour with just one arm."
The number of charges and his history of similar offences meant prison was the most likely option for Burt but Judge Bidois said mitigating factors convinced him otherwise.
"You intend to stop drinking again. You have lost an arm in the accident so it has been brought home to you the consequences of drink-driving, so that has been a significant factor in your life. You've had a taste of what it's like to be in jail."
The judge also ordered Burt to pay reparations of $203 for medical costs and $19,718.45 to the power company, which was the cost to repair the electrical network, power lines and replace the power pole.
Burt would not speak to the Bay of Plenty Times yesterday.