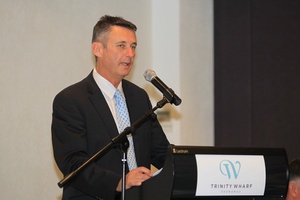 Tauranga Mayor Stuart Crosby is promising a new focus on the election issue that played a big part in cleaning out the council's old guard on Saturday - debt.
He proposes to establish a new committee dedicated to keeping an in-depth focus on the council finances.
And because debt - which stands at $353 million - was such a critical election issue, he wants the committee to be supported by independent experts on local government accounting.
Mr Crosby said the committee's brief would extend to council's properties and council-controlled organisations like Tourism Bay of Plenty and the newly merged trading company responsible for Baypark and aquatics.
The October 30 meeting of the new council will decide on whether to add the committee to the existing policy and monitoring committees. His plan already has the provisional support of new councillor Kelvin Clout who came within 500 votes of beating Mr Crosby for the mayoralty.
And because the election wiped out seven of the 10 councillors, Mr Crosby said there was no choice except to throw some of the new faces "into the deep end".
He said there was no time for a number of the councillors to learn to swim in the shallow end. "There might be a few sharks circling but that is the only way to learn."
The strong business, planning and governance skills amongst all the new councillors meant he was sure they would be up to the task.
Mr Crosby also proposed to reduce the number of sub-committees and working parties while still leaving enough for each councillor to have a position of responsibility.
The big change in the council meant he was putting a lot of importance on his one-to-one sessions with each councillor this week and the council's two-day retreat next week to start developing working relationships.
Mr Crosby said he had no idea at this point about who he wanted as deputy mayor or to chair the committees. "I have got to get to know them."
Whoever got the deputy's job needed to be someone who was available every day because he intended to give them a lot more of the "day-to-day stuff" so he could focus on big strategic issues like the rejuvenation of the downtown.
Mr Crosby said he intended to run the new council on a consensus basis, even though legislation extended the powers of mayors.
One of the topics at next week's retreat would be his plan to spend 100 days on a ground-breaking project to restore a sense of pride and identity to Tauranga. One of Mr Crosby's big pre-election promises was to give the city a new vision and direction.
He said that one of the consequences of Tauranga's rapid growth to becoming a prominent New Zealand city was that it had not developed a strong sense of community. "It's a city with an identity issue."
Mr Crosby hoped the new-look council would want to put its stamp on the new direction.