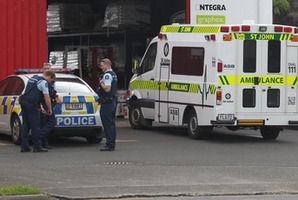 A Mount Maunganui woman is "lucky to be alive" after a train struck her.
Emergency services were called to the train tracks at the end of Macdonald St in Mount Maunganui about 4pm yesterday.
Mount Maunganui St John shift manager Gary Bishell said a 24-year-old woman was taken to Tauranga Hospital with head injuries after being clipped by a train as she was crossing the tracks.
She was in a stable condition last night, he told the Bay of Plenty Times Weekend.
Staff at a nearby business raced out to help when they heard the woman screaming.
One staff member said the woman's head was bleeding but she was "lucky to be alive" and fortunate they were still at work.
He was reluctant to talk about the incident which he said left the train driver in tears.
A KiwiRail spokeswoman confirmed the woman was struck a glancing blow while crossing the tracks but was not at a level crossing.
"She was trespassing. Taking shortcuts across the tracks should just never happen. Crossing at other places is just taking your life into your hands," she said. "She's obviously a very lucky person. I hope people understand that it's just not worth it."
The latest collision comes two months after KiwiRail launched a major nationwide rail safety campaign urging people to be alert and not to use phones or headphones near train tracks.
Between 1994 and the end of 2012, 204 people died while trespassing on railway tracks making trespassing the leading cause of railway deaths in New Zealand, according to the campaign website.
Tauranga man Scott Siddall, 42, died after a train hit him on the track near the intersection of Ngatai and Western Rds in August last year.