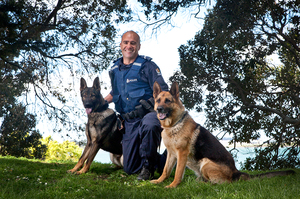 A Tauranga police hero has retired after nine years on the job and is taking up a life of luxury.
Police dog Neo, 10, has been officially retired after his handler Constable James Muir and new dog, Eli, graduated from the Dog Training Centre in Trentham two weeks ago.
Neo had his share of the limelight after bringing down a teenager who had tried to shoot Mr Muir with a rifle.
In 2007, the pair were involved in a pursuit where two 14-year-olds in a stolen car fired guns at Mr Muir's patrol car.
When they cornered the teens one pointed the rifle at another officer prompting Mr Muir to call on them to surrender.
The teenager then pointed the gun at Mr Muir, "actioned" it and pulled the trigger, but the gun did not fire. Mr Muir released Neo enabling the officers to capture the pair.
The officers' actions earned Mr Muir the Charles Upham Award for Bravery, the Police Commissioner's Gold Merit Award for Bravery and The New Zealand Bravery Decoration.
Even now Mr Muir does not like to talk about the situation but said he never doubted Neo's ability.
"All of us dog handlers have full confidence that our dogs will back us up in any scenario." The pair faced the odd scary situation but there were plenty of highlights in their partnership Mr Muir was happy to recount.
"The good tracking catches I've had with him are ones you remember. The guy that got beaten up at the fish and chip shop in Greerton. The guy got badly assaulted. He was knocked unconscious for no reason. I tracked (the offender) home through Greerton," Mr Muir said.
Tauranga Police dog section supervisor Sergeant Paul Selby recalled a hot summer's day when he and Mr Muir were chasing a wanted man and lost him in a retirement home in the Avenues. Neo tracked him to a garage with a car in it but the officers could not find the man in the car.
"There was physically no where he could be," Mr Selby said. "Then I popped the boot of the car and he was lying there."
Mr Muir laughed as described the small size of the boot in the "little old lady's car".
When the time came for Neo to retire Mr Muir did not think twice about keeping him.
"I've had him so long. I was never going to give him away not after nine years of all the drama we've been through," Mr Muir said.
Police dogs
*Four active dogs in Tauranga.
*Twenty-three police dogs killed in the line of duty in New Zealand.
*Ten months to train a patrol dog.
*Nine weeks spent at the Dog Training Centre in Trentham.