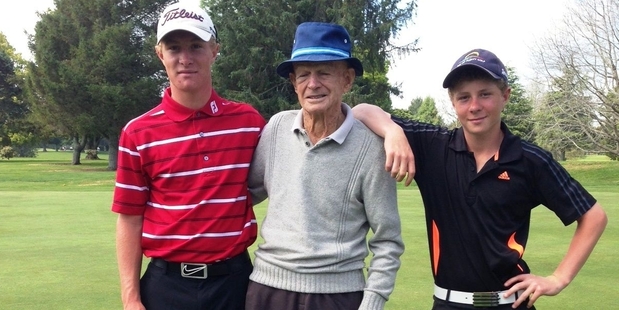 The best of the Te Puke Golf Club members fought out the club championships last weekend.
There were three men's divisions, three ladies divisions and a nine-hole division, with the main event the men's senior final played between the Hillier brothers.
Harry, 14, took on his older brother Charlie, 16, over 36 holes on a course set to perfection by head green keeper Wayne Lawrence, who, with his team of volunteers, got the course into the best condition seen in recent memory.
Harry and Charlie have enjoyed recent national success with Charlie winning the 2013 NZ National Secondary Schools championships and coming runner-up in the 2013 NZ national age groups in the under-17 category, with younger brother Harry winning the NZ under-15 category.
They both played in the recent Carrus Open, with Charlie finishing 15th equal amateur, and they represented Bay of Plenty in Cambridge at the BOP inter-provincials winning the under-19 event.
Charlie captained the side at No 1 and Harry consolidating the team at No5.
The sibling rivalry between the two talented sportsmen is obvious and both have a burning desire to be the best at what they do.
They are different in their approach with Charlie displaying a great appreciation of the fundamentals after five years of golf tutoring, having a strong mind set and displaying composure under pressure.
Charlie is often seen at the club on the practice range or putting green putting in the hours that are required to be the best at your chosen sport.
Younger brother Harry, on the other hand, displays a raw talent, playing on feel.
He had a burning desire to beat his older brother and felt Saturday was his chance to come out on top as the club champion for 2013.
The brothers teed off last on finals day with a large gallery following the main event.
It was hoped the final would go the distance and be decided on the 36th hole but Charlie quickly took control of the match and after shooting a brilliant 5-under 67 after the first 18 holes, the match was essentially over. Harry didn't play badly, shooting 77 for the first 18, but was no match on the day.
The match eventually ended on the 25th hole with Charlie taking the title 12 and 11.
So Charlie came out on top this year but rest assured younger brother Harry will be out to take the crown in 2014.