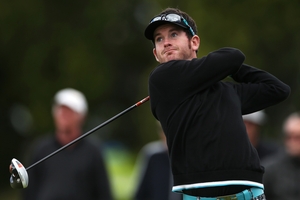 Otumoetai Golf Club will celebrate its 50th Jubilee in 2014.
In the late 1950s the Tauranga Borough Council converted what was then a town supply dairy farm into a reserve area called Bureta Park.
The council's plans included creating a simple area for the general public, however, local residents had another idea and in 1964 the Otumoetai Golf Club was formed with 25 financial members. For the first five years the council maintained the park with the club taking over allresponsibilities in 1969 when a lease was granted by the council and a greenkeeper employed.
Founder members inherited a piece of swamp on which rough grass thinly covered what had been a shallow estuary. Golfers learned to drive the ball long and low as a high shot would be plugged in the sticky mud. All a far cry from the beautifully manicured fairways and greens of today's course.
Progress since those early times has included intensive drainage and with council's recent input following the 2005 floods throughout Tauranga, the land has been transformed from being part of an original town supply dairy farm and swampy area into what is now a well- maintained nine-hole golf course.
Otumoetai operates as an affiliated club offering membership for golfers who can choose to play as 18 or nine holes members and also casual golfers who wish to play the course paying a casual green fee for each round from $9 for nine holes - remarkable value in comparison to other local courses.
Over the years, Otumoetai Golf Club has a proud record for being the catalyst for a number of junior golfers who have gone on to local and national rep honours.
The most famous is Josh Geary who started as a junior member of Otumoetai.
Geary is now a professional touring the world and was the winner of this year's Carrus Open, his third victory at the event in three starts. The Geary family still play at Otumoetai with father Chris and brother Brad members of the club, with Brad playing off a 1.8 handicap.
The most recent juniors who started at Otumoetai who have represented Bay of Plenty in 2013 are Chris Charlton (0.2), Andrew Jackson (3.2), Sam Davis (+2.0) and Cam Neal (2.7).
The club welcomes new members and during Labour Weekend is running Open Days for golfers to find out more about Otumoetai Golf Club.
Free introduction lessons are available for non-golfers on Tuesdays at 5.30pm and clubs can be provided if necessary.
Visitors are especially welcome to the club's nine-hole twilight golf competition every Tuesday from 3pm to 6pm.
Details: www.otumoetaigolf.co.nz