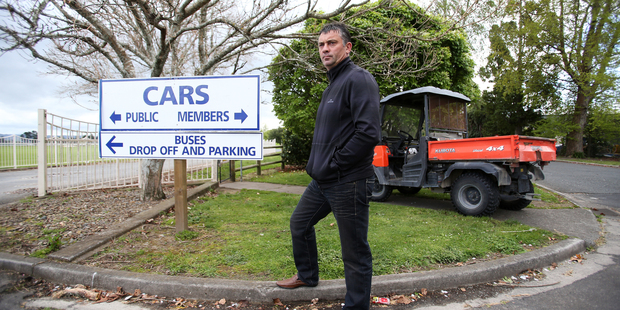 One of Tauranga's major events facilities will undergo an upgrade worth nearly $250,000.
The Tauranga Racecourse will have $245,000 spent on upgrading its narrow, boggy entrance after Tauranga City Council authorised the plan this week.
The improvements will result in the road being widened and sealed with designated car parking along the side, changes made to the exit on to Cameron Rd and bollards, seats and picnic tables installed on the grass beside the road.
The venue on Cameron Rd hosts at least one event a week and has hundreds of people using it each day. Events include the annual Tauranga A&P show and show jumping.
Event organisers and city leaders are welcoming the makeover, which focuses on improving the entrance and driveway. It will be paid for by the racecourse's reserve operation and management committee.
Racing Tauranga course manager Craig Settle told the Bay of Plenty Times the work was desperately needed.
"It's pretty tight the driveway. It needs doing up. The tree roots are lifting the kerb. The driveway's pretty hard to get out of," he said. "It's time for a bit of an upgrade."
"It will definitely be an asset for the place."
Low-hanging tree branches often scraped the top of trucks as they entered and the grass verge which was used for parking turned into a bog during winter, he said.
Mr Settle said the upgrade would be great for the club because it would be more user friendly for people attending events, going to the golf course or walking their dogs.
The Racing Tauranga committee had been chipping away at upgrades to the club building and was hoping to attract more functions, he said.
Tauranga MP Simon Bridges said the upgrade was good news.
"Anything that makes us more attractive to people from out of town is a very good thing," he said.
Tauranga Mayor Stuart Crosby said it was a good project for the large number of users including the golf club and events that were held there because it would improve the safety of cars entering and exiting the racecourse.
Racecourse reserve operation and management committee member Peter Silson said the committee decision to go ahead with the upgrade came after Powerco dug up the centre of the road to lay a large cable. Compensation for the work will be used to help fund the improvements.
"Basically there's a gateway being set up with a rock wall. We're trying to blend it in with Greerton and make the entrance stand out little bit more than it has in the past and signage so that people know where to go," he said. "We're making it a bit more user friendly for people to use the reserve."