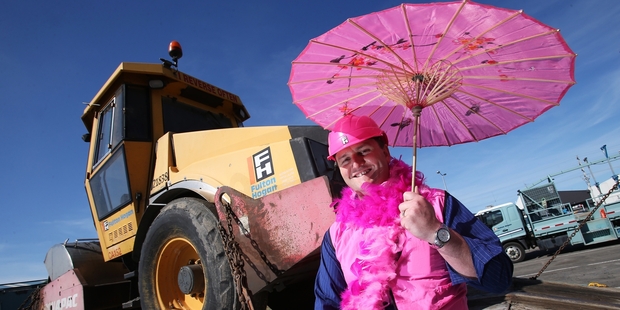 An unlikely group of men get involved in every annual Tauranga breast cancer Pink Walk to help make the event possible.
Fulton Hogan traffic management manager Paul Tyson manages the road and lane closures needed to make way for the HOT (House of Travel) Pink Walk.
Each year Mr Tyson, and four to five staff, armed with heavy trucks, signs, barricades and cones, work from 1.30pm to about 8.30pm manning several of the city's main intersections, with help from other volunteers and Tauranga police.
Mr Tyson said giving his time and resources to the walk was a "no brainer" because his wife's mother and grandmother had both been affected by breast cancer. Mr Tyson has been looking after the walk's traffic management since it began in 2002 and carried this drive into Fulton Hogan when he joined the team six years ago.
The efforts have since been well supported by the Fulton Hogan women "and a few lads".
The tradition of gold coin donation morning teas, at all of Fulton Hogan's Western Bay of Plenty offices, now take place in the days leading up to the event and it has also become a team effort designing pink costumes for the walk, Mr Tyson said.
"It is great to work for a company such as Fulton Hogan that willingly allows (and encourages) us to do this sort of thing for our community," he said.
Mr Tyson first became involved 11 years ago through original walk organiser Iris Thomas and her partner Bruce Trask, who used Mr Tyson's traffic management help with other charity events such as the Half for Heart Marathon. "Iris asked if I was willing to supply [traffic management] for this new walk which she hoped would get a few hundred ladies to walk around the CBD for 15 to 30 minutes to raise awareness, and some funds would be a bonus," he said.
After 10 years co-ordinating the event, Ms Thomas handed the reins back to the Breast Cancer Support Service Tauranga Trust last year.
The Pink Walk has become a major event for Tauranga, attracting thousands of people to take part.
Organisers hope this year's walk will attract an even bigger crowd, with men being actively encouraged to take part for the first time. Trust service co-ordinator Lea Lehndorf said Fulton Hogan's help with the walk was a great example of how business could support the cause.
"Offering their skills and supporting each other to provide, that makes a big difference to the success of our event.
"We really appreciate the support from Paul and the whole team at Fulton Hogan," Ms Lehndorf said.