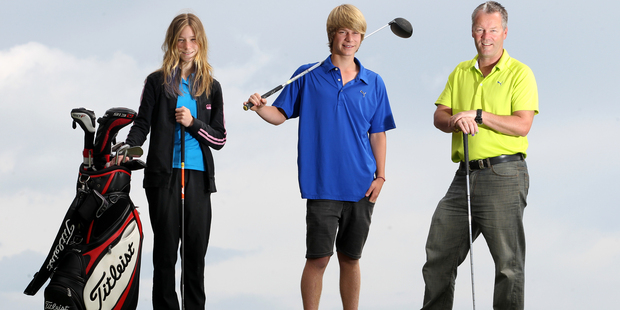 It was a triple sporting delight for the Cooke family on Saturday.
Three members of the Tauranga family were crowned champions of their respective divisions on Finals Day at the Tauranga Golf Club.
Dave Cooke won the prestigious Senior Men's Matchplay title, his son Jordan the Nike Cup Division 2 category and daughter Shania the Junior 9-Hole Matchplay title.
Dave is immensely proud to be the first senior winner to have his name inked on to the new honours board inside the clubhouse.
The 3.3 handicapper played rep golf for Bay of Plenty in the 1980s with the calibre of players such as Mike Nicholson, Owen Kendall and Tony Reynish.
His sister Jan Cooke represented New Zealand from Tauranga many years ago and is still a teaching pro. Dave previously worked at golf courses locally and overseas as a greenkeeper.
His final over 36 holes against Paul Thomas was an epic battle that he finally won 3 and 2.
"Paul knocked over Tony Reynish, Richard Craven and Bruce Burberry, so that's three legends, and we knew we were up against it," said Dave. "It wasn't as sharp as my other games but that is not to detract from the quality of the match, which was fantastic."
Dave admits he is more proud of what Jordan and Shania have achieved. "It makes me prouder than my achievements to see them doing so well. They are comfortable around the golf course which is what we wanted."
Jordan, 17, has lofty ambitions to be knocking on the door of the top division next year. "I am on a 14 handicap and I am in the Bay of Plenty team for the Booth Shield team for the second year running," Jordan said. "I have a major goal to make the Carrus Open next year and to beat dad. My handicap is on its way down and needs to get down to single figures. It's getting there."
Shania is just as smitten with golf as her family. "It is my main sport for now."