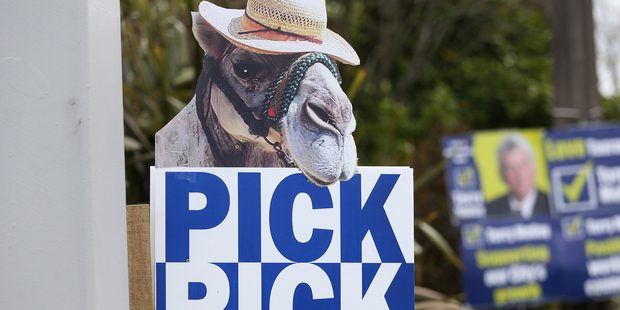 A camel wearing a hat, a cute bunny rabbit and a misplaced head advertising badminton are election sign stunts livening up the last week of the local body elections.
Otumoetai/Pyes Pa ward candidate Catherine Stewart has been one of the few contenders whose election signs have been vandalised.
Her head was removed from a sign on Waihi Rd and attached to a sign further along the road advertising the Tauranga Badminton Club.
Mrs Stewart said she was not upset and suspected the culprit was probably drunk.
"I'm very lucky, touch wood, that hardly any of my signs, or anyone else's signs, have been too badly vandalised."
Mrs Stewart's husband got up at 5.30am each day to check on the signs and had not needed to replace many or report any defacing, she said.
"I think this time, it's been better than three years ago. I've been very pleased so far with the signs. I haven't seen much vandalism at all."
At-large candidate Rick Curach replaced his own head with the images of a camel wearing a hat and a bunny rabbit in signs on Welcome Bay Rd and Turret Rd, respectively.
Mr Curach said the unusual replacements were a way of livening up things.
"I've just done those two. All these signs out there get pretty boring. It's the last week and I thought I'd put a smile in the dial of commuters."
"Maybe they will get to work and talk about it and hopefully it will remind them that there's an election happening."