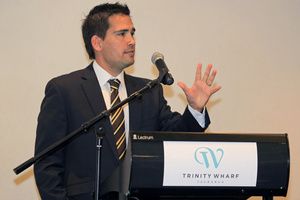 The rate of growth in the Bay of Plenty electorate is the 11th fastest in the country, closely followed by the Tauranga electorate at 13th.
Figures from the 2013 Census released yesterday show the Bay of Plenty electorate grew 10.9 per cent between 2006 and 2013, while the Tauranga electorate grew by 9.2 per cent.
Figures from the previous census show the Bay of Plenty electorate was the eighth fastest-growing at 16.6 per cent and Tauranga was 31st, with 7.5 per cent between 2001 and 2006.
The 2013 data showed that, of the country's 70 electorates, the fastest growing was Hunua in Auckland with a rate of 26.1 per cent. Auckland Central was third on 21.7 per cent.
The Tauranga population was now above the limit for an electorate, which meant the boundaries would have to be reconsidered to make the area and the number of voters smaller.
Tauranga MP Simon Bridges said the figures were good news.
"It's not too great a leap, which puts a lot of pressure on infrastructure. It's just steady as she goes population growth," he said.
Any growth was good news but the increase had been slower than anticipated due to a booming economy in Australia and the global recession, Mr Bridges said.
Tauranga already felt more like a city than it did when he arrived in 2001, Mr Bridges said.
Tauranga Mayor Stuart Crosby said the figures were in line with council predictions and what had been budgeted for, but he expected the growth rate to increase. "It's definitely picking up again with our latest building figures for the last six months," he said. "I think we'll be in for a five-year period of growth higher than that."
Mayoral candidate John Robson said the growth was likely to continue and could be put down to the attractive climate and environment the city had to offer.
Richard Moore and fellow mayoral candidate Kelvin Clout were surprised the growth rate was not higher.
Mayoral candidate Hori Leaming was also surprised growth was not higher but expected the housing crisis in Auckland would start to drive people south to Tauranga.
Mayoral candidate Mike Baker is on holiday and could not be reached for comment.