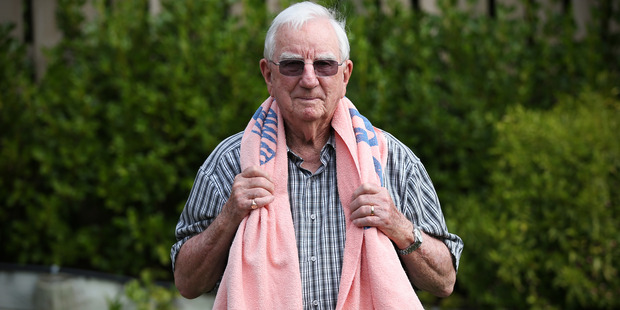 A Tauranga pensioner is upset he cannot exercise when he wants to at the Greerton pools gym.
Clubfit Tauranga, the organisation that runs gymnasiums at the city's aquatic centres, sent a letter to Bethlehem's Bob Poffley, 84, on October 1, stating his Seniorfit membership only allowed him gym access between 9am and 3pm and those hours must be adhered to as part of a crackdown from November 1.
Mr Poffley has held a Seniorfit membership at the Greerton Aquatic and Leisure Centre for about two years and during that time has been working out in the gym from 8.15am, before his 9.30am aqua aerobics classes.
The classes were strenuous, so Mr Poffley said he was too tired to work out afterwards.
He was unaware of the time restriction but conceded it would have been in his contract.
Mr Poffley said being able to stay fit meant he remained mobile and delayed ending up in a wheelchair.
"If it was busy I would be the first to say I'm in the road but it's not busy at that time," Mr Poffley said.
"I think I've seen as many as six there at one time but in all my time there I've never had to wait to use the machines.
"Most men and women that work are gone by 8am. If it was busy when I go, I wouldn't bother going."
Even though he received a discounted rate, he said he still had to pay $10 a week to use the facility.
A standard adult membership for both the gym and pool is $34.23 a fortnight.
Mr Poffley said he did not think there should be any time restrictions on Seniorfit members.
"I think I should have the freedom to work out whenever I like at my age."
Bay Leisure and Events chief executive Gary Dawson said the letter had been sent after complaints.
"We are getting complaints from other members who say they are paying normal rates and these people are getting a discount. Because of this, we've had to enforce the policy that we have."
Mr Dawson said he would ask his staff to monitor gym usage in the morning. There would be a review to see whether the off-peak time should be dropped back half an hour to 8.30am.
"The Seniorfit members get an off-peak reduced rate.
"I think that's fair because it is an off-peak rate, it's not discriminatory against them because of their age."