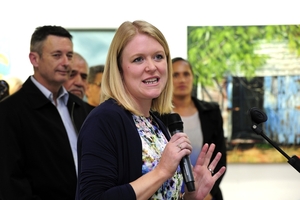 Cargo Shed stallholders enjoyed their moment in the spotlight last night, opening the newly revamped centre to a crowd of about 100.
The Cargo Shed has been the subject of discord between stallholders and Creative Tauranga, who each felt they could lead the arts centre in a better direction.
It came to a head in June when each group made a presentation of their plans to invigorate the space to the Tauranga City Council, with the stallholders winning a 12-month lease.
The revamped centre was opened with a blessing by local iwi last night and the feedback from the guests was positive.
Cargo Shed manager Kathy Sass said the eight resident artists had their own space in the shed with well-lit walls and pelmets set up to display their work.
She said the last three months renovating the space had been hard work.
"It's not finished, but then it never will be. Everything will change. Finished is something you never are when you are in art."
Other artwork would also be on display and artists would come to the shed to give classes to the public.
"We're going to get a lot of working artists," Mrs Sass said. "We have a woman who makes kete who will sit on a mat and make them here. We will also have mosaic classes, learn how to make your own garden statue, beading classes.
"The whole idea is it's a working gallery where we give and take to the community."
Cargo Shed patron Natalie Bridges said she supported the centre, because art made a city.
"Art is pumped through the veins of a city. This is testament to that.
"All the stalls are very individual with their own personality, but they are all united by this space. Let's hope this is the start of a very exciting era for this place."
Mayor Stuart Crosby said the Cargo Shed had an amazing history, beginning as a cargo shed for the port then ending as an arts centre.
Heather Griffin was at the opening with Deputy Mayor David Stewart. She said compared with her first visit a few years ago, there had been big changes. "It's all been done very tastefully."
Mr Stewart said he was satisfied to see what had become of the shed.
Tom Sneddon attended the opening and said he had watched the progress of the centre from day one.
His wife was involved with the spinners and weavers and he said he thought the changes were fantastic.
Judi Marsh said it was her first visit and she was impressed.