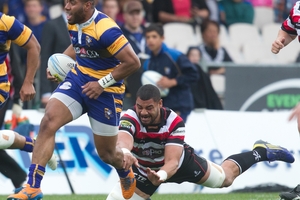 The Steamers must beat Waikato today at ASB Baypark Stadium to give themselves a chance of avoiding relegation in next week's final round of the ITM Cup.
Going into today's match the Steamers are seven points behind the struggling Mooloos and Taranaki so a bonus-point win is a must. Then they would need to beat Northland next week and hope Taranaki knock Waikato over in Hamilton.
Sunday's last-minute loss to Counties Manukau was a travesty for the Steamers because had they held their nerve in the final minutes and won then they would be in control of their own destiny.
With so much at stake and playing against their dreaded foes from over the Kaimais, this is the ideal opportunity for Western Bay rugby fans to get to the stadium and roar the Steamers home.
Tanerau Latimer is a welcome addition to the Steamers pack after the champion openside is back from a whirlwind return journey to Argentina to cover for the All Blacks loose forward injury problems.
Waikato arrive after the biggest loss in the union's history when they decided to rest most of their big guns against Tasman on Wednesday night and were thrashed 64-28. On that performance, the Steamers must be a good chance of winning today but expect to see a near full-strength Waikato side to run down the rickety path to the Baypark pitch.
The highlight of the Counties Manukau game was the dominant Steamers scrum, which demolished the highly regarded Steelers pack.
Central to that performance was hooker Nathan Harris, who is still buzzing from being called into the All Blacks camp for two days last month as one of the up-and-coming young hookers destined to be in the selection mix once Andrew Hore and Keven Mealamu retire.
The 21-year-old former New Zealand Under-20 rep said it was a huge honour to spend quality time with players he looked up to.
"Still to this day I get chills down the spine thinking about that first phone call I got," Harris said. "It was a great experience and obviously is up to the player what you want to get out of it.
"It's about chasing the dream and living in Andrew Hore and Richie McCaw's pockets, seeing what makes them tick and what they do during the week."
Harris said a concerted effort from the whole pack was the secret to their dominance over Counties Manukau.
"I think it was a bit of mental edge and want as our backs were against the wall as we had just three games left. We really wanted to assert our dominance especially up against Hika (Elliott) as their enforcer. We realised they had sharp backs so we knew we had to kill them at the source of either set piece of scrums or lineouts. With (props) Kane (Hames) and Pingi (Tala'apitaga) we are getting our clarity right around our scrummaging and what we want to do."
The major work-on for Harris in his game is improving his accuracy throwing the ball into lineouts. Harris is a converted No8 or flanker, who moved to hooker playing for the Tauranga Boys' College First XV that included Carl Axtens and Sam Cane.
"Coming from No8 it is pretty tough, but someone told me I had a gift for throwing so it is pretty natural.
"I have always had to work on it and still continue to work on it. You can never do enough work on your core roles as there are always teams to make."