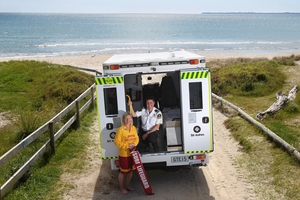 St John is diverting money away from real estate in a bid to improve its services.
It has forged a relationship with the Papamoa Surf Club and one ambulance will be based at the club from Monday onwards.
St John Central Region Western Bay of Plenty territory manager Ross Clarke said it would allow the organisation to concentrate on its core services rather than "ploughing money into real estate".
"We require community money, the surf club requires community money so it's an initiative that should work well for everyone.
"Moving forward we need to build more of these relationships."
St John had been looking at its regional deployment plans over the past 10 years and Papamoa, particularly Papamoa East, had shown up on its radar due to increased growth in the suburb, he said. Two ambulances were stationed on Girven Rd at Mount Maunganui.
"In regard to getting an ambulance to Papamoa within "a good amount of time", it's been physically impossible because it's such a long stretch of road. So we're looking at the way we're doing business and how it can be improved. The support from the surf club will enable us to do that."
Initially one ambulance would be based at the Papamoa Surf Club during the day every day as a deployment post, manned by two crew.
Its proximity to Te Puke was another bonus as ambulances from Tauranga were often called out for assistance, Mr Ross said.
Papamoa Surf Club chairman Matthew Pickering said the move was trialled last summer and proved so successful it made sense to formalise it into a more permanent relationship, particularly given the thousands of locals and visitors who pour into the area each year over the summer months.
Mr Pickering said having St John paramedics working alongside the lifeguards also provided a great opportunity for "cross-pollination" in terms of passing on lifesaving and first aid knowledge.
Fundraising was set to begin shortly for a new clubhouse, which - once complete - would be four times the size of the existing building, he said.
"We would love to see this type of arrangement with St John turn into a permanent relationship."
David Hill, Papamoa Progressive Association chairman, described the initiative as a "fantastic" forward-thinking move.
"Basically the population of Papamoa quadruples over the summer, with around 100,000 people swamping the area. Good on St John for recognising and understanding the needs of the local community," he said.
- additional reporting Sandra Conchie