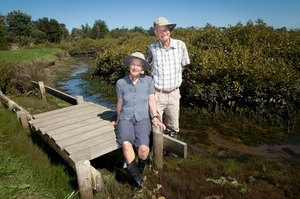 The war on mangroves in Tauranga is to be stepped up, with plans to remove seedlings from 600ha of Tauranga Harbour and level another 24ha of mature mangroves.
But it won't be won without a fight. Veteran Tauranga environmentalist Basil Graeme has promised to oppose the Bay of Plenty Regional Council when it applies for consent to clear mangroves from six estuary and harbour locations.
He was furious that an independent commissioner had decided that the consent to mechanically remove the seedlings did not require public notification.
Mr Graeme has been given a confidence boost by his recent Environment Court action in which Judge Jeff Smith was not impressed by what he saw in some areas where the council had cleared mature mangroves.
Judge Smith said it could not be assumed that consent would continue to be granted in the same way in the future.
"There must be some justification to remove mangroves beyond a mere public dislike," he said.
The council also won consent to use scrub bars and mulchers to remove mangrove stumps from the 110ha already cleared of mangroves. Council says the stumps were being exposed as sediment and mud was flushed out of the estuary.
Part of Mr Graeme's motivation to appeal the council's mangrove management rules was that the original 110ha of cutting and mulching had damaged the harbour's ecosystem.
Judge Smith agreed, saying in several places it was difficult to understand the amenity, recreational or access basis for the removal of large tracts of mangroves.
In some areas it had released sediments that joined those within the harbour until they settled out in another position.
"In many cases it had made no difference to the sediments which had simply remained in place without the mangroves."
Areas of particular concern were portions of Omokoroa Peninsula and the area between James Cook Drive and Waitaha Rd at Welcome Bay.
Judge Smith noted other areas where the removal of mangroves had at least partially succeeded in the return to a sandier base, notably the Waikareao Estuary fronting Judea Marae and at Welcome Bay's Tye Park. He put this down to the effects of streams and their openness to wind and wave action.
He said he could not see the previous consents to clear mangroves as being the correct application of the council's Regional Policy Statement.
"We suspect that these decisions have been driven by the lack of opposition and desire to support estuary care groups."
Mr Graeme said that although Judge Smith did not support all his arguments, there were important precedents in the judgment that would improve protection for mangroves.
He said the judge accepted expert evidence that there was no ecological benefit from clearing mangroves.
Judge Smith said there would be cases where removing mangroves was justified for amenity, recreational, access or cultural reasons. "These will need to be considered in the context of the ecological values of the mangroves and any ecological effects, both positive and negative."
The regional council intends to change the way it clears mature mangroves. Instead of the cut and mulch method in which debris was left scattered over the surface of the estuaries, it will use a root rake and remove the mangroves on a barge to be mulched on land.
The council's natural resource group manager Warwick Murray said an independent commissioner had decided to issue the stump removal consent without public notification. A decision on the consent for the seedling removal was expected soon.