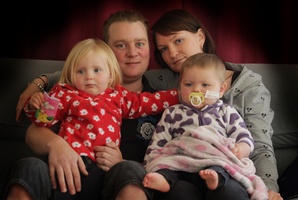 It has been a year since Sativa Eagle lost her battle with leukaemia and her family are still coming to terms with the loss.
The family released Chinese lanterns in memory of the 2-year-old last night, the one-year anniversary of Sativa's death.
She was diagnosed with acute lymphoblastic leukaemia (ALL) in 2011 when she was 4 months old. Her plight captured the hearts of 6000 people in Tauranga, the rest of the country and overseas through the Please Help Baby Sativa & Her Family Fight Leukaemia Facebook page.
Mother Sheree Eagle told the Bay of Plenty Times Sativa's siblings Bailey, 5, and twin sister Indee, 3, were still struggling to understand their sister was no longer waiting for a visit at Starship Hospital.
"We lit candles for 'Tiva on her birthday. Indee woke up a couple of days later crying and saying we needed to go and pick Tiva up from heaven for her birthday. How do you tell a 3-year-old that it doesn't work that way? Bailey always throws balls in the air saying he's trying to get Sativa to catch it.
I don't think he know what death is, but he knows the person is gone."
Mrs Eagle said when the family had returned to Starship to visit the staff and families they met during Sativa's treatment, Indee thought they were going to visit her sister.
She said the family had coped during the day yesterday, but wanted to let their emotions loose at the lantern ceremony.
"I've pulled all Sativa's stuff out and put it on the table. I've got a teddy bear I had made from all of her blankets, that's out, her photos, clippings from the newspaper and her ashes on display. We've been doing that on most anniversaries and we watch the movie we made at her funeral."
Mrs Eagle said they wanted to make the anniversary of Sativa's death a special family occasion and would release balloons every year to mark the occasion.