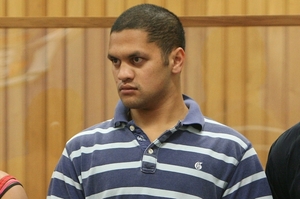 A Te Puke man on parole after doing jail time for his role in the fatal beating of a local man, is back behind bars after he knocked a second man unconscious with a king-hit in an unprovoked attack.
After originally denying a charge of common assault, Henare Tumekemohi Hadfield, 24, changed his plea to guilty in the Tauranga District Court yesterday.
The unprovoked attack occurred in the early hours of March 23 this year as the victim - who was not known to Hadfield - was walking his partner to his vehicle in Harrington St.
Hadfield approached the man and punched him in the head with such force that he was knocked unconscious. Hadfield was arrested a short time later.
Judge Paul Geoghegan noted that Hadfield had two convictions for assault in 2007 and 2008, another for fighting in a public place in 2007 and a fourth for manslaughter in 2009.
In June 2008, Hadfield was jailed for five months after he knocked another man unconscious with a king-hit punch to the head at a Harrington St night club.
Hadfield had taken exception to the way the victim looked at him.
Then in June 2009, Hadfield was sentenced to six years' jail in relation to the manslaughter charge, after he admitted he was one of the trio who bashed an intoxicated Te Puke man, Dale Poole, to death outside an ATM in the town on November 23, 2007.
The other two men, Hamuera Potene and Haimona Clarke, were each jailed for four years and six months, and Kerrianne Whare, who encouraged the attack, was jailed for two years and nine months. All four of the group had close family ties.
Mr Poole, who had been drinking with the group and paid for some drinks after meeting them in the bar that night, died within minutes of being repeatedly punched in the head by Hadfield and Potene. Potene and Clarke also kicked and stomped his head. Mr Poole was left to die on the footpath.
Hadfield got a longer prison sentence because he was the instigator of the beating, had prior assault convictions and also because the 2008 assault occurred while he was on bail awaiting trial.
Hadfield's lawyer, Tom Castle, urged Judge Geoghegan to consider calling for a home-detention report in relation to the latest assault, but the judge refused to do so.
Judge Geoghegan said: "Not only do you have previous convictions for assault and other violence offences, Mr Hadfield, but the circumstances of this assault are also quite concerning, and could have resulted in serious injury or worse. A clear [deterrent] message needs to sent out to the community in terms of random violence."
Judge Geoghegan said given all the circumstances, the jail sentence was "quite lenient".
Hadfield's parole conditions are not due to expire until April next year.