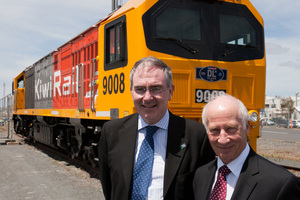 KiwiRail is celebrating 150 years of rail in New Zealand with a travelling exhibition heading to Mount Maunganui.
Stopping at Triton Ave off Totara St this Saturday, Keeping NZ on the Move: The Exhibition Express showcases the evolution of the rail industry in New Zealand.
The free exhibition includes displays about rail in New Zealand and four individually-themed educational rail containers.
The event will run from 10am to 4pm and organisers are promising entertainment, giveaways and prizes. KiwiRail chief executive Jim Quinn said the event was about celebrating KiwiRail's past, present and future in rail.
"The exhibition showcases the incredible history of rail in New Zealand, the contribution it has made to the development of our country during the last 150 years, and the contribution it will continue to make into the future," he said.
"The themed carriages provide a fun and informative journey through the history of rail in New Zealand - from the earliest railways built by provincial governments to connect townships to KiwiRail's brand new state-of-the-art passenger carriages, and electric commuter trains."