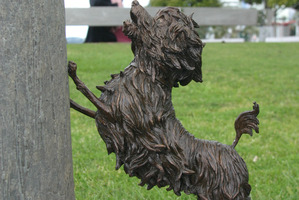 Working at the local newspaper has made me aware - and at times shocked - at the people elected on to the Tauranga City Council and the amount of power they wield.
The problem is that for my age group I'm in the minority.
Most people in their 20s and 30s are not connected with the personalities on council, nor do they know the influence they could have by taking half an hour out of their busy lives to read the candidate profiles and vote.
Tonight Kiwi comedian Guy Williams, of Jono and Ben at Ten fame, will host an event on the waterfront interviewing city council election candidates and he wants the first issue on the agenda to be the Hairy MacLary statue set to be installed a few metres away.
He makes a valid point, that if councillors can't sort out a Hairy MacLary statue, how are they going to sort out city infrastructure?
Williams is the perfect man for the job - funny, young, famous and a political graduate from Victoria University. He's also got an axe to grind about the way voting in local body elections is inaccessible to young people in New Zealand.
Despite living in the digital age - where forms are filled out and submitted online - voting in a local body election relies on forms being collected from the letterbox and votes being cast via snail mail.
Most young people move flats regularly, often don't empty the letterbox and haven't posted a letter since they wrote to their nana at age 10. Most of the meet-the-candidates events this year have attracted poor turnouts but hopefully tomorrow's fresh approach in a more casual setting will attract some younger voters keen to hear what the candidates have to say.
Williams' other gripe is that the elections themselves are incredibly boring and dry.
I think there's a total lack of translation between how issues like a city's debt, lack of a museum or what time the pubs close can be influenced by its elected members.
If young people take the time to learn what council does surely they can better select the right men, or even a few more women, for the job.