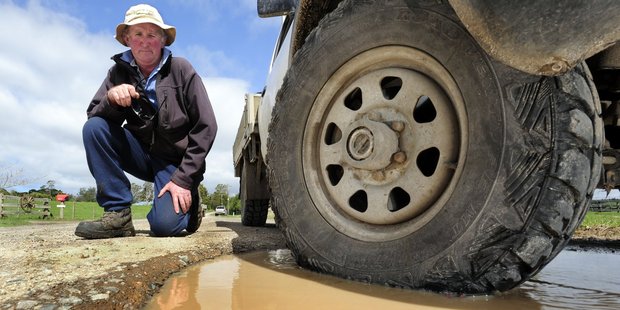 Roads, rates and town centre revamps are among the key issues for Western Bay residents ahead of this month's local body elections.
Pongakawa resident Mike Fitzpatrick said roading and rates were the big issues for many rural residents.
Mr Fitzpatrick, who lives on Maniatutu Rd, said there was very little metal left on the unsealed section at the top of the road.
"It's the pot holes and just the mud holes at the moment. There are sections of it that are just a bog," he said.
"As residents we're sick of it. Our rates bill's nearly $11,000 a year and that's really the only service we get. The rest of the rural roads will be the same. We're not on our own."
He has lived on the road for 11 years and said there had been virtually no new metal put on the road in that time.
The only time anything was done was when the council received complaints from residents, Mr Fitzpatrick said.
"Personally, I get sick of ringing the council."
A contractor in a ute with a trailer load of metal was occasionally seen filling in holes, he said.
"It's farcical really."
Trevelyan's Pack and Cool general manager and Te Puke resident Stephen Butler said rates and roads were big issues but the Te Puke town development was also high on the priority list.
"With Psa and the effect it's had with the empty buildings we want to see it go ahead and have the right sort of shops operating," he said.
"You need to spend money if we want our area to go ahead."
Tidying up the town centre and economic development were the two main issues for Katikati resident and manager of the town's heritage museum, Paula Gaelic.
"For me personally, I stop in a town that looks like it's an attractive place to stop at. Tidying up the town centre, that is crucial," she said.
Measures to improve the economy were also important, she said.
"If the community is feeling comfortable financially, they are spending money.
"It's been really hard for Katikati. With Psa it's been a lot harder than anybody really imagines, unless you're in that situation.
"It's been really hard for the community and the businesses in Katikati."
As far as the museum was concerned, the continued support of groups such as Katch Katikati was extremely important, she said.