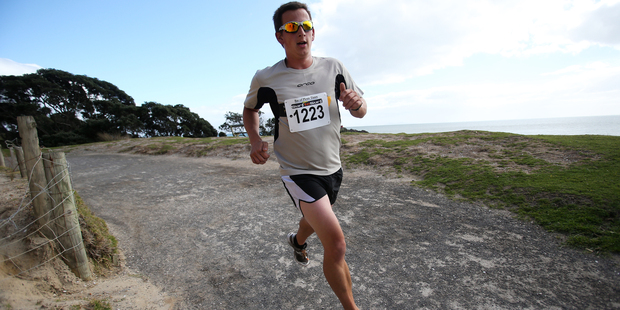 Tauranga held its own flawed version of the Kingston Flyer race yesterday.
The problems were twofold - the train was not scheduled as part of the Mainfreight City to Surf Fun Run/Walk and no one was able to outrun it.
The train put the brakes on runners about 1km into the 12km run at Sulphur Point, grouping the frontrunners together for more than a minute. Men's winner Kyle MacDonald was among those in the unfamiliar position of waiting for a train as part of a running race.
"It was just coming up as we were about to go across," MacDonald said. "I thought the train was going to stop - I thought they would have taken care of the trains beforehand and been in communication with KiwiRail."
MacDonald was relaxed about the interruption which had done little to derail his plan of pushing the pace and joked that a savvy competitor could have gained a decisive advantage if they had checked the train schedule.
"I would have dropped a 2:50 first kilometre instead of a 3:10. That would have got me across."
MacDonald dropped brother Iain MacDonald and reigning champion Ben Ruthe just before the corner of Totara Street and never looked back, running the second half of the race alone while extending his advantage. He finished in an official time of 37:48.26 - including the enforced train delay - almost a minute ahead of second-placed Ruthe.
Iain, who will compete in the Auckland Marathon alongside his brother in five weeks, finished third in a time of 38:54.01.
Sarah Backler won the women's race going away in a time of 44:32.02.
A record number of entrants made the event the largest running event in Tauranga's history.
About 1900 runners and walkers embarked on the 12km City to Surf from Sulphur Point while 600 more tackled the 5km Surf to Surf run at Main Beach.
The combined entries were up more than 25 per cent on last year's event.
Organiser Murray Fleming was thrilled with the turn out.
"There is over 2500 competitors when combined with The Bay of Plenty Times Surf to Surf," Fleming said. "It's up by about 600 people so that's great. It's down to Mainfreight's great support - they've been able to help drop the entry fee considerably which has led to more people coming on board."
Keeping the race affordable was seen as a key to its continued growth.
"There are so many events so if you can keep the entry fee low it all helps.
"We'll try to target 3000 competitors next year and then continue to grow from there.
"It's very special being able to run over the bridge and then around the Mount, it is one of the most picturesque events in the world."