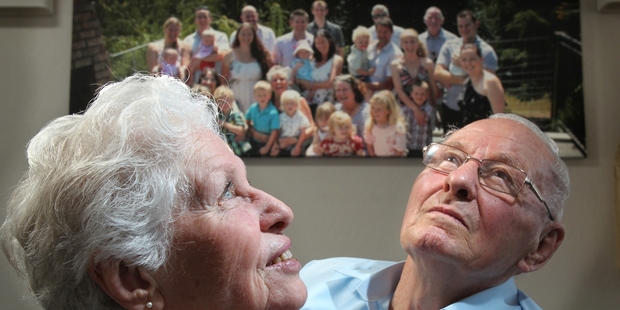 Stan and Sylvie Gyde say the key to a long lasting marriage is sharing - and they should know, they have been married 60 years.
They married on September 29, 1953 and have spent almost their entire married life in each other's pockets.
Their recipe for success is a large dollop of sharing everything - including a single bank account - and a dose of healthy respect for each other, mixed with the love of their children, grandchildren and great-grandchildren.
"We've been together for 60 years. It's hard to say why it works but it does," Mrs Gyde said.
"As I always say, he is one in a million.
"When I'm doing something, say doing the baking, he will offer to do the cleaning up for me. We just do things for each other."
Mr Gyde said sharing a bank account was very important.
"We never question what the other spends, we can each help ourselves to what we need. We're not silly with it. It's both of our money and we share it."
Another important thing was to never go to bed without resolving an argument, Mr Gyde said.
The couple met at a party and, after courting for three months, Mr Gyde asked her father for his permission to marry her.
A photographer snapped the happy newly engaged couple walking down Queen St in Auckland in February 1953 while searching for an engagement ring and a copy is proudly displayed in their living room.
Mr and Mrs Gyde have worn many hats in their time together, working as farmers, shop owners, hoteliers and in real estate.
They raised their family on a farm in Waikato and also lived in Auckland and Hamilton at different stages of their lives, before friends enticed them to Whitianga.
"Our friends used to keep asking when we would come and visit them in Whitianga, but we never had time to because we were running a busy shop. One day we actually did it and it was just lovely so we bought a bach," Mrs Gyde said. "The same friends then told us a motel was going up for sale and it was going for a song because it was a mortgagee sale, so we sold up and bought the Marlin Hotel. We had 20 years up there."
During the latter part of that period, Mrs Gyde said they were travelling back and forth to Tauranga because of Mr Gyde's involvement with the theatre.
"One day we said to our daughter we may as well just move here. Then she got out all the real estate books."
The couple and their children were passionate about music and loved the theatre. Mr Gyde has been made an honorary member of the 16th Ave Theatre for his involvement in set building and Mrs Gyde often helps out doing front-of-house work.
The Gydes have been in Tauranga for 13 years. They spent their anniversary weekend at the Miranda Hot Springs in Thames with their family.