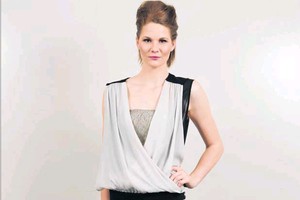 Tauranga's new Indulge Bay Model winner has been named in a showcase event that brought the best of the region's model hopefuls out to shine.
Ohauiti's Rebecca Andrews, 18, pictured, was crowned Supreme Winner of the competition at ASB Arena last night. She took the grand prize that included a Harvey World Travel nine night Pacific Island cruise for two, Repertoire clothing and an indulge magazine cover shoot for her efforts.
Judge Meghan Maher, a Repertoire director and stylist, said Miss Andrews was the obvious choice for judges and simply "owned the runway".
"One word can sum it up and that is 'wow'. All of us judges, we couldn't take our eyes off her," Ms Maher said.
"She interacted with the audience, she made the clothes look just exceptional. She was just an absolute all rounder. It was a very clear cut decision for all of us. She was of international standard."
The panel of five judges also included actor Bronwyn Turei, known for her role in television show Go Girls.
"There were lots of nerves which is natural but they just wowed me, because I know how scary it can be doing this kind of thing and they just did an amazing job," Ms Turei said.
Rebecca Marshall, 21, from Mount Maunganui, was named winner of the People's Choice category and Hazel Newland, 21, from Pyes Pa, was named Miss Photogenic.
Winners of the age categories were Kelsey Schaumann, 18-25; Victoria Han, 26-39; and Jacqueline Barrimore, 40+.
Event organiser, Bay of Plenty Times marketing manager Samantha Dowling, said the night was a fantastic event showcasing some of the best the Bay had to offer.
"All of the girls looked amazing and did a great job of modelling the Repertoire range."
Miss Dowling thanked all involved in the Indulge Bay Model search which, in just its second year, attracted almost 100 entrants.
"We really do have some beautiful women here in the Bay."
This year the show included not just the catwalk final, but a raft of stalls from local businesses offering everything from perfumes to hair extensions.
Details of all the winners and photos of the event will be in next week's indulge magazine in the Bay of Plenty Times Weekend.